Mulayam Alleges Land Grabbing By Maya, Demands CBI Probe
Samajwadi Party supremo Mulayam Singh Yadav on Sunday accused Uttar Pradesh Chief Minister Mayawati and some senior state bureaucrats of indulging in land grabbing and demanded a CBI probe into it. "A CBI probe should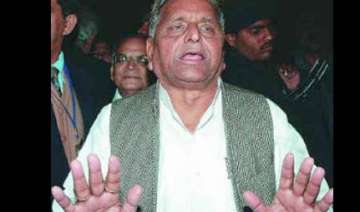 PTI
November 08, 2009 21:22 IST
Samajwadi Party supremo Mulayam Singh Yadav on Sunday accused Uttar Pradesh Chief Minister Mayawati and some senior state bureaucrats of indulging in land grabbing and demanded a CBI probe into it.
"A CBI probe should be ordered into land grabbing and other deals involving the Mayawati-led BSP government," he told reporters here after submitting a memorandum to Governor B L Joshi in this regard. 
Yadav alleged two senior officers, Shashank Shekhar Singh and Shailesh Krishna, at the behest of Mayawati, had pressurised independent MLC Sunil Singh to surrender his private bungalow in Mall Avenue for expansion of CM's official residence. 
"Mayawati had already acquired nine buildings in Mall Avenue which have been included in her existing bungalow. Now, she is eyeing Singh's house where he has been living for the past 32 years," he said. 
Yadav along with SP general secretary Amar Singh released a CD purportedly containing conversation between Sunil Singh, Shashank Shekhar Singh and Shailesh Krishna. 
Amar Singh alleged at one point during the conversation Shailesh claimed they would influence the court. 
"It is evident from the CD that the officers are trying to influence and manipulate the judiciary. We have requested the Governor to order a probe into the matter," he said. 
The two officers should be removed till the probe was over, the former Chief Minister said. 
The SP supremo alleged the Mayawati government also tried to pressurise his party's West Bengal unit chief Vijay Upadhyaya to make a false statement in a case lodged recently against Amar Singh in Kanpur.
"Upadhyaya received threatening calls from Secretary to the Chief Minister Navneet Sehgal and BSP leader Akhilesh Das. Even mafia don Mukhtar Ansari called him from CM's residence despite the fact that he is currently lodged in jail," Amar Singh said. 
He said Upadhayaya had filed a complaint before a Chief Metropolitan Magistrate who had directed Kolkata Police to register an FIR against Navneet Sehgal and Akhilesh Das. PTI