Mulayam gives 10-day ultimatum to SP ministers to 'mend' ways
Lucknow: With elections fast approaching, SP supremo Mulayam Singh Yadav today gave a 10-day ultimatum to party ministers and babus in UP to "mend their ways" or face the sack and even ticked off his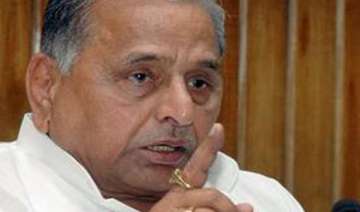 PTI
March 04, 2014 17:12 IST
Lucknow:
With elections fast approaching, SP supremo Mulayam Singh Yadav today gave a 10-day ultimatum to party ministers and babus in UP to "mend their ways" or face the sack and even ticked off his son and Chief Minister Akhilesh Yadav asking him to keep distance from "sycophants".  
Addressing a gathering at CM's 5 Kalidas Marg residence here, Mulayam, while pointing at cabinet minister Mohd Azam Khan, said, "In your government, sycophants are ruling the roost" and added that the state government was "weakening" the party with its performance.
"Ministers and officers, you all should mend your ways within 10 days," he said.
Turning to the CM, Mulayam said, "You (Akhilesh) should not fall in the trap of sycophants.
You have become habitual of hearing 'Sir'.... The outcome of those, who fall in the trap of sycophants, is not good."