Mulayam Singh Disenchanted With Kalyan
In an apparent sign of Samajwadi Party's disenchantment with Kalyan Singh after its crushing defeat in the recent bypolls in Uttar Pradesh, party supremo Mulayam Singh Yadav on Saturday  said that the former chief minister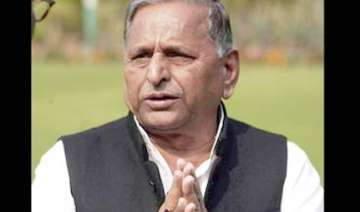 PTI
November 14, 2009 21:25 IST
In an apparent sign of Samajwadi Party's disenchantment with Kalyan Singh after its crushing defeat in the recent bypolls in Uttar Pradesh, party supremo Mulayam Singh Yadav on Saturday  said that the former chief minister never was nor would ever be inducted into the SP. 
"I have said this in the past and would repeat it again that Kalyan Singh was never in the SP, nor he will be taken in the party fold in the future," Yadav told reporters in Lucknow in a reply to a question. 
Even Kalyan had said that he was not associated with any party, he said. . 
When asked about his friendship with the former BJP leader, Yadav said that Congress was also SP's friend, whose government the party had saved in the past. 
"We have no foes in politics, we only have ideological differences," he said. 
On Kalyan sharing the dais with him during the SP's Agra convention, the party supremo said that he cannot stop anyone if he comes willingly. 
"I admit that invitation was sent to Kalyan, but it was probably due to a mistake," he said. 
When asked that Kalyan's son Rajbeer Singh was an office-bearer in the SP, he said that this question was not raised when he was a minister in his government. 
On why the party did not contest from Etah seat against Kalyan in the Lok Sabha elections, Yadav said that the party did not contest from Rae Bareli and Amethi as well.  
Amid fresh strains with Congress after the Firozabad Lok Sabha by-election, Mulayam Singh Yadav  said his party will take a decision "at the right time" on the issue of support to the UPA. 
 "The party will look into the matter at the right time," he said when asked whether SP will withdraw support from the UPA after Congress candidate Raj Babbar defeated Yadav's daughter-in-law Dimple in the by-election, necessitated after her husband Akhilesh vacated the seat and retained Kannuj. 
"We extended support to Congress to prevent BJP," he said, parrying a direct reply to the question by reporters. 
When pressed further, he said it is only six months of the UPA-II. 
Accepting the defeat, Yadav alleged that Congress has spent crores of rupees in campaigning. "We are in the process of reviewing the reasons behind our performance," he said. 
Maintaining that everyone knew how by-elections are contested and won, he said, "When the SP was in power we won all the by-elections barring one for Ghazipur, that too due to a political murder...Even the BSP lost Akbarpur seat, which was vacated by its president Mayawati." 
"I would like to tell all those who dream of writing me off that when a lady with grit like Indira Gandhi could not finish me, then no person can do so," he said. 
He said SP was written off in the past several times, "but we bounced back time and again. The party will do it again in the future and will get absolute majority on its own in the next assembly elections." 
Regarding SP's defeat in the assembly by-elections in his home turf Etawah, he again blamed Congress.
SP general secretary  Amar Singh   refused to comment on Mulayam Singh Yadav's statement that Kalyan Singh was never in the party and would never be taken into its fold.
"I will not comment on Mulayam Singh Yadav's statement (on Kalyan Singh). I am not authorised to comment on this matter. Mulayam Singh has made his views clear on the matter.  I did not bring Kalyan Singh to SP. If some people say so, then it is mere conjecturing on their part. I cannot take decisions on his behalf. Kalyan Singh is a big and mature leader capable of taking his own decisions. He is an Independent MP and is not connected to SP," Singh told reporters.
The SP general secretary added that though on a personal level he has good relations with many leaders of parties with which SP has ideological differences, "these are my personal relations and have nothing to do with politics".  PTI