Muslims too can buy property in rehabilitation townships for Kashmiri Pandits
New Delhi: The proposed composite township plan for displaced Kashmiri Pandits in the Valley is not exclusively for them but Kashmiri Muslims can also buy home in the proposed townships.Sources in the Ministry of Home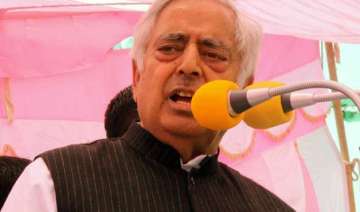 India TV News Desk
April 28, 2015 13:09 IST
New Delhi: The proposed composite township plan for displaced Kashmiri Pandits in the Valley is not exclusively for them but Kashmiri Muslims can also buy home in the proposed townships.
Sources in the Ministry of Home Affairs (MHA) said that there is nothing in the rehabilitation plan of Jammu and Kashmir government that states these townships will be only for Kashmiri Pandits.
"If Muslims want, they can buy property with their own resources and live there. Since it's a rehabilitation scheme for displaced Kashmiri Pandits, the grant will only be given to them but at least 50 per cent of the houses will be reserved for them," a Home Ministry official said.
According to the Jammu and Kashmir government's proposal to the Centre, Kashmiri Pandits will be given a grant of Rs 20 lakh to buy a flat in a township. It does not say anything like these townships will exclusively be for Kashmiri Pandits.
The government is planning four townships to rehabilitate nearly 10,000 displaced Kashmiri Pandit families, 2,500 in each. Srinagar and Anantnag are the two cities which have been identified for building townships. The location has not been finalised yet and if the land is acquired somewhere else, the townships will shift accordingly.
Chief Minister Mufti Mohammed Sayeed had earlier this month assured Union Home Minister Rajnath Singh that his government will soon acquire land for the purpose saying 'Kashmiri Pandits will be brought back with dignity and honour as the cultural milieu without them remained incomplete'.
On the other hand, reports suggested that Parliamentary Standing Committee on Home Affairs has placed its report before the government on repatriation of Kashmiri Pandits to the Valley. Sources said that rehabilitation plan has also been circulated to Ministry of Finance, Ministry of Defence and Ministry of External Affairs for their comments.
It is also believed that the Home Ministry has approached the Union Cabinet for formal approval of the proposed plan.
The PDP-BJP coalition government in the state moved to rehabilitate Kashmiri Pandits under the Common Minimum Programme (CMP). The BJP had promised to bring back the Kashmiri Pandits to Valley in its election manifesto.
Nearly 62,000 Kashmiri Pandit families had fled the Valley in the wake of militancy two decades ago.
Meanwhile, separatists in the Valley slammed the move accusing government of 'creating ghettos'.
"Creation of separate colony for Pandits is a conspiracy to build walls of hatred between the two communities," Jammu Kashmir Liberation Front (JKLF) leader Muhammad Yasin Malik said.