Naidu takes potshots at Congress over land bill issue
New Delhi: Union Minister Venkaiah Naidu today took potshots at Congress over the land acquisition issue a day after the main opposition party launched "Zameen Wapsi" website taking the battle on the land bill issue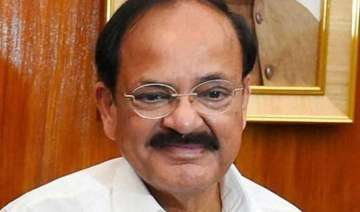 PTI
April 19, 2015 20:51 IST
New Delhi: Union Minister Venkaiah Naidu today took potshots at Congress over the land acquisition issue a day after the main opposition party launched "Zameen Wapsi" website taking the battle on the land bill issue to the social media.
"You should have foresight before launching a website," Naidu said, daring it to ensure that vast tracts of lands acquired over the years by Congresss governments at the Centre and in states are returned before it persists with opposition to the land ordinance of the NDA government.  
Speaking at the inaugural session of a day-long training workshop for BJP MPs here, the Minister for Parliamentary Affairs slammed Congress for "disinformation" campaign against the NDA government on the land bill issue.  
Referring to yesterday's launch of website 'Zameemwapsi' by Congress, Naidu asked the opposition party to first "come clean" on the lands acquired by its governments.  He alleged that Congress is "politicising" the land acquisition issue unmindful of the consequences for development of the country.
To buttress his point, Naidu also quoted from a purported interview of former Rural Development Minister Jairam Ramesh to a magazine wherein Ramesh was reported to have said that excluding 13 acts from the purview of the land act of 2013 was 'real politics'.
Naidu expressed bewilderment over Ramesh saying in the said interview, as to how would it matter even if projects are delayed by three to four years on account of the provisions of land Act of 2013 like the consent clause and social impact assessment (SIA).
"Such delays would result in time and cost overruns to which several Congress Chief Ministers have objected to while seeking changes in the land Act of 2013 proposed by the Congress led UPA Government," he said.  
The minister ridiculed Congress' allegation that the changes proposed by the NDA government would be used to acquire lands for the "benefit of RSS-affiliated organisations" and assets that it shall never be done.