Live : Let Azam Khan say the theft of his buffalos was a threat to secularism, says Modi at Lucknow rally
Lucknow: Gujarat Chief Minister and BJP's prime ministerial candidate Narendra Modi took a potshot at the secularism of Samajwadi Party and sarcastically remarked that he was waiting for the UP minister (Azam Khan) to say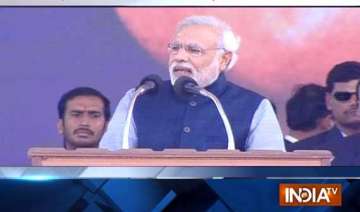 India TV News Desk
March 02, 2014 18:07 IST
Lucknow:
Gujarat Chief Minister and BJP's prime ministerial candidate Narendra Modi took a potshot at the secularism of Samajwadi Party and sarcastically remarked that he was waiting for the UP minister (Azam Khan) to say that the theft of his buffalos was a threat to the secularism.
Modi was addressing 'Vijay Shankhnad rally' in Lucknow today.
"These people talk about secularism to put a lid on their misdeeds. I am waiting for the minister to say the theft of his buffaloes was a threat to secularism. I am waiting for him to say this. They say forget jobs, forget water, forget prices let's talk of secularism; it is under threat. To hide their failures they are hiding under garb of secularism and misleading others," said Modi.
"Their secularism is about votebank politics. Ours is about India first. For them it's power for us it's Sarva Pantha Sambhav. For them secularism is a slogan but for us, it's an article of faith," added Modi.
Modi targeted Samajwadi Party leaders and said that they were just enjoying the perks of power. He also said that nowadays there are two groups within SP- Samajvirodhi Party and Sukhwadi Party.
"SP has two groups now. One is Samajvirodhi Party and other is Sukhwadi Party. They're only enjoying themselves. Netaji, please stop taking Lohia ji's name. The dance in functions and death in camps would pain Dr. Lohia," said Modi.
Modi also ridiculed Mulayam Singh for saying that parties can't compete on the basis of attendance in political rallies.
"Today Netaji accepted defeat in his speech. He said don't compete on getting people in rallies. This means he's accepted defeat. I have always preferred development over votebank politics. Thankfully Netaji had to forget votebank politics today and he talked on development," said Modi
Here are the live updates for the rally: