Will Modi magic work in J&K and Jharkhand ?
New Delhi: Fifth and last phase of polling for electing new assemblies of two crucial states- Jammu and Kashmir and Jharkhand has finally come to an end today.All eyes were focused on J&K.Kashmiris, by turning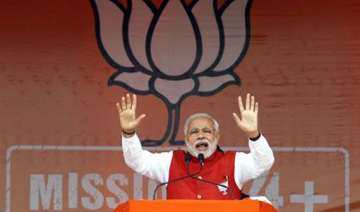 Raj Singh
December 20, 2014 23:02 IST
New Delhi: Fifth and last phase of polling for electing new assemblies of two crucial states- Jammu and Kashmir and Jharkhand has finally come to an end today.
All eyes were focused on J&K.
Kashmiris, by turning out in large numbers, seem to have voted for the much needed change in the state. This seems to be also an indication of the strengthening of their faith in country's democratic process.
The terrorist attack in Uri and elsewhere, before third phase of elections, impacted the turned out, but failed to dampen the spirit in Kashmir valley.
The first two phases in the state witnessed huge turnouts of around 71 percent.  While the third and fourth phase registered an impressive turnout of 58% and 49%, respectively.
Even today, during fifth phase of elections, polling picked up by noon and around 76 percent voters exercised their franchise. Overall, 65% voting has been recorded in five phases of assembly polls and it has broken the record of last 25 years.
BJP, this time is expected to do better in the valley, especially in the Jammu region. The party leadership has high hopes with the election outcome. First time they are optimistic of forming government on their own in the state.
The separatists, who in the past always gave a call to boycott the elections, have changed their mind this time. For a change, they are believed to have encouraged voters to come out in large numbers and vote against BJP.
The BJP, on its part, has tried its level best to win over the people of valley. The party's eagerness to strike a chord with Kashmir electorate can be gauged from the fact that the party preferred to remain silent on its core issue of removing Article 370. In fact, one party candidate went overboard and said that she would be the first to take up arms if Article 370 is ever dropped from the constitution.
Prime Minister Narendra Modi's meeting with Sajjad Lone was also seen as an attempt to strike a working relationship with at least a section of the separatists.
All pre-poll surveys suggest that Modi magic might work in Jammu again after party's  victorious performance during Lok Sabha elections. However, Kashmir valley might still remain a distant dream for the PM. People's Democratic Party (PDP) is most likely to emerge as the preferred choice for the voters in the valley.
One thing is for sure, National Conference seems to have lost the touch with the voters. People of the state look all set to punish the party heavily in these elections. Anti government sentiments were rife after the Omar Abdulla government failed to reach out to the people after the floods.  
Coming to Jharkhand, Modi's magic is most likely to work in the state if attendance at Modi's rallies is any indication.
Voter turnout has been more than 60 percent in all the five phases of the assembly election. The turnout in first phase was 62 percent, 66 percent in second phase, 61 percent in both third and fourth phase. A whopping 71 percent voter turnout was registered in the fifth and final phase.  
Ground reports and pre-poll surveys suggest that the people of Jharkhand are fed up with the performance of coalition governments in last 14 years and may deliver a decisive mandate to BJP this time.
Looks like an advantage Modi in the state this time.
Clear picture will emerge once the counting takes place on December 23.