PM to meet BJP MPs on Sunday :Mukhtar Abbas Naqvi
New Delhi: A day before the second half of the budget session begins, Prime Minister Narendra Modi will on Sunday meet all members of parliament of the BJP and discuss the government schemes and policies."The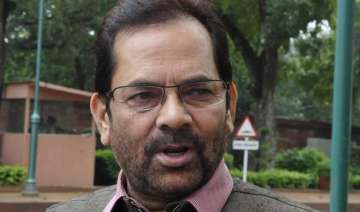 IANS
April 18, 2015 18:49 IST
New Delhi: A day before the second half of the budget session begins, Prime Minister Narendra Modi will on Sunday meet all members of parliament of the BJP and discuss the government schemes and policies.
"The prime minister will meet all MPs and discuss various government schemes," Minister of State for Parliamentary Affairs Mukhtar Abbas Naqvi told IANS.
He will also discuss with them the coming parliament session and how the MPs should defend government policies, he added.
Modi has already asked Bharatiya Janata Party MPs to visit their constituencies and take the feedback on various government policies.
The meeting assumes significance as it comes just days before the Modi government completes a year in office.