Conciliatory Narendra Modi reaches out to opposition
New Delhi: A conciliatory Prime Minister Narendra Modi today reached out to the opposition urging it to join him in "collective decision-making" for development of the country and all sections of people, including Muslims.In his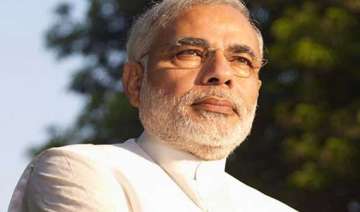 PTI
June 11, 2014 20:58 IST
New Delhi:
A conciliatory Prime Minister Narendra Modi today reached out to the opposition urging it to join him in "collective decision-making" for development of the country and all sections of people, including Muslims.
In his maiden address to the two Houses of Parliament, Modi, fresh from a massive mandate, promised not to work on the basis of numbers but "on the basis of collective decision-making".
Rejecting apprehensions that his government may become arrogant given its numbers, he said that victory teaches many lessons, including humility.
The Prime Minister talked about his dreams of ensuring the country's progress and converting the image from "scam India" to "skills India" thorugh "cooperative federalism".
The Prime Minister also touched upon a topic which was his favourite theme in his election speeches when he referred to pending criminal cases against elected representatives and the need to expedite trial in them so that guilty can be punished and the innocent protected.
"Parliament has the capacity to do this.  We will take the help of the Supreme Court.  There should be fear of the law," he said, adding quick decisions in such cases will obviate the need for filing of affidavits by candidates who have to fill up details like criminal cases pending against them whether they are genuine or false.
Addressing "musalman bhai", he referred to apprehensions expressed by some members over the fate of minorities and said his government would work for the development of Muslims.
"I believe if one organ of the body remains weak, the body cannot be termed as healthy. We are committed to this. We don't see it as appeasement."
For the first time, Modi commented on the killing of a Muslim techie in Pune last week over offensive facebook posting done by some unknown people.
Referring to the Pune killing and the recent incidents of rape in Badaun in Uttar, he said "whatever has happened, it is painful. Our conscience will not forgive us".
Modi was replying to the debate on the motion of thanks to the President's address in both the houses which was passed unanimously.
On the cases against elected representatives, Modi said the judiciary will be asked to decide pending cases against MPs within a year. This will be later replicated in states and civic bodies, he said in the Rajya Sabha.
"There is a public perception that those who are in Parliament have criminal background. We have to remove this stigma. We will request the Supreme Court to expedite the pending cases against any member and decide them within a year," Modi said while making his first speech in the Upper House.
"Those who are guilty will go to jail and those who are innocent can move with respect and hold their head high," he said while talking about corruption and taint on politicians.
Referring to the malaise of corruption and his government's resolve to eradicate it, he said the entry of bad governance in administration is like a body afflicted with diabetes. "It can destroy whole system," he said.
Noting that the country has earned the image of "scam India" in the world, he said, "The confidence has been lost, which needs to be restored. The confidence should not be broken. It is a big challenge, but we can do it if we sit together. We will convert the image from scam-India to skills India."
Invoking Mahatma Gandhi repeatedly, Modi said, "Let us dream and make effort to fulfil those dreams. There will be difficulties but with your (opposition) cooperation we will move forward."