Narendra Modi to be formally anointed as BJP's PM candidate by July-end
New Delhi, Jul 9: Gujarat chief minister Narendra Modi will be formally named BJP's  prime ministerial candidate by end of July or in the first week of August, senior party sources said. With Janata Dal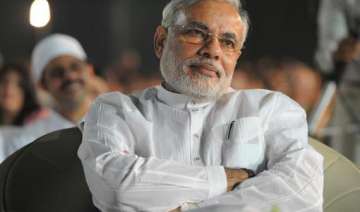 India TV News Desk
July 09, 2013 11:08 IST
New Delhi, Jul 9
: Gujarat chief minister Narendra Modi will be formally named BJP's  prime ministerial candidate by end of July or in the first week of August, senior party sources said.
With Janata Dal (United) out of the NDA, the remaining constituents are not averse to Modi being projected as the prime ministerial candidate.
Senior BJP leaders L K Advani, Murli Manohar Joshi and Rajnath Singh have already met RSS chief Mohan Bhagwat to discuss about Modi's candidature. The message given to them was that the party should soon make up its mind and project a united face ahead of the LS polls.
The RSS is going to put its seal of approval at its ongoing meeting in Amrawati,  Maharashtra, on this issue, sources said.
Both the Akali Dal and Shiv Sena are on the same page as the BJP, as far as projection of Modi is concerned.
The BJP parliamentary board will now meet regularly every week to finetune the party's strategy for the Lok Sabha polls, which the party feels, may take place in November.
Modi will be contesting from Varanasi, the citadel of Hinduism, and presently represented by BJP leader Dr Murli Manohar Joshi in Lok Sabha.