Nawaz Sharif calls up PM Modi, appreciates India's rescue operation in Nepal
New Delhi: Pakistan Prime Minister Nawaz Sharif today called up PM Narendra Modi and appreciated India's efforts in the rescue operations in Nepal.9 ( scroll down for video )Nawaz Sharif also expressed his condolences on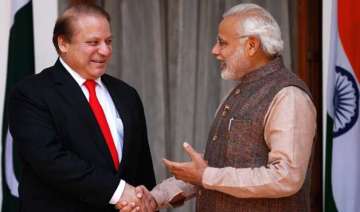 India TV News Desk
April 30, 2015 14:49 IST
New Delhi: Pakistan Prime Minister Nawaz Sharif today called up PM Narendra Modi and appreciated India's efforts in the rescue operations in Nepal.9 ( scroll down for video )
Nawaz Sharif also expressed his condolences on loss of lives in India due to earthquake.
After the call, PM Modi tweeted, "Got a call from PM Nawaz Sharif. He expressed condolences on the loss of lives in various parts of India due to the Earthquake."
His another tweet read, "PM Nawaz Sharif appreciated India's efforts in the rescue operations in Nepal. I thank him for his kind words."




During the conversation Modi suggested to Sharif that SAARC nations should conduct regular joint exercises on disaster relief and rescue that could help these countries in minimising the damage during natural disasters.
"PM Sharif appreciated this idea and told me that we should take up such an initiative," the PM said in another tweet.
Both leaders also discussed unseasonal rains and its adverse impact on the crops.
Nepal was hit by a massive earthquake measuring 7.9 on the Richter scale on April 25, killing over 5,000 people. The toll due to the earthquake in India has gone up to 78, while the number of injured people stands at 560, the government said on Wednesday.