NGO in Delhi claims Kejriwal not a Delhiite
New Delhi: AAP convenor Arvind Kejriwal is under scanner yet again. An NGO in Delhi – Maulik Bharat Trust – has raised issues against his change of address plea to the Chief Election Commissioner.Kejriwal has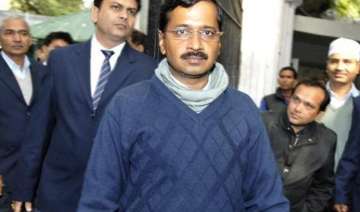 India TV News Desk
January 15, 2015 9:04 IST
New Delhi: AAP convenor Arvind Kejriwal is under scanner yet again. An NGO in Delhi – Maulik Bharat Trust – has raised issues against his change of address plea to the Chief Election Commissioner.
Kejriwal has filed a request, a few days before, with CEC to change his address from Tilak Marg to B K Dutt Colony. However, the NGO has written to CEC to not to issue him a voter ID card from B K Dutt Colony as he does not actually reside there.
The NGO has written a letter to CEC regarding same on January 13 which stated "Kejriwal has declared to have shifted from the address of assembly constituency 40 (New Delhi), Part No 111 at serial no 515. The application was rejected by your office. In the fresh application filed by Kejriwal, he claims to be an 'ordinarily resident' of K 87, B K Dutt Colony (Karbala), Lodhi Road, New Delhi. The various notices served before and the documents of the UP Police confirming he is a resident of Ghaziabad, UP substantiate that he under no stretch of imagination is an ordinary resident of New Delhi."
Members of the Trust claim that the new application should also be cancelled," "We have got an RTI reply from Ghaziabad Police in which it has stated that he lives in Kaushambi (Ghaziabad). We had given adequate proof to the election commission based on which his first application was cancelled on January 9. He later filed another application for change of address on the same day," said Ajay Aggarwal, secretary of Maulik Bharat Trust.
When sought clarifications from AAP, it slammed the charges. Some of its sources told that the application filed 8-10 days before was for a change of address from Tilak Marg to Vittalbhai Patel House on Rafi Marg where government has allotted a suite to the party in which one room is a party office and another is a rest room. The allotment was made in the name of the party convener and secretary and it has been with the party for last two years. However, according to CEC, an office address cannot be used for voter I-card due to which Kejriwal had to withdraw his application and file another application for a different location; which he did for B K Dutt Colony.
The opportunity was well grabbed by BJP. Praveen Shankar Kapoor, a media convener of Delhi BJP said, "This is double standards. He is provided police protection by Ghaziabad Police, but he claims he lives in Delhi. How is this possible?"
Meanwhile, a senior official from Delhi election office said that all these applications are processed in a particular way and anyone can challenge them within this time period.