NH case: SC expunges Delhi HC remarks; exempts Sonia, Rahul from appearance
New Delhi: The Supreme Court today expunged some objectionable remarks of Delhi High Court in connection with the National Herald case involving Congress president Sonia Gandhi and vice-president Rahul Gandhi.The apex court, however, dismissed the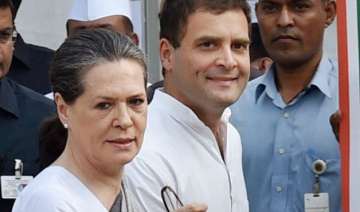 India TV News Desk
February 12, 2016 20:50 IST
New Delhi: The Supreme Court today expunged some objectionable remarks of Delhi High Court in connection with the National Herald case involving Congress president Sonia Gandhi and vice-president Rahul Gandhi.
The apex court, however, dismissed the petition of Sonia and Rahul seeking stay of the proceedings before the trial court in this case.
In a big relief to Gandhis, the apex court exempted them from personal appearance in the trial court. The court also said that the trial court must issue specific order whenever their presence is needed.
Though BJP leader Subramanian Swamy, who is the complainant in the case, contested the plea for exemption from appearance, a bench comprising justices JS Khehar and C Nagappan said that "in the peculiar facts and circumstances of this case and the position occupied by the petitioners, we are of the view that the presence of the petitioners before the trial court would cause more inconvenience than convenience."
"Petitioners shall be exempted from personal appearance and it is needless to say that it will be open for the trial court to seek their presence at any stage if and when their presence is required," the court said.
Sonia and Rahul had appeared before a lower court here in December last year after summons were issued on BJP leader Subramanian Swamy's complaint alleging "cheating" in the acquisition of Associated Journals Ltd. (AJL) by Young India Ltd. (YIL) - "a firm in which Sonia Gandhi and Rahul Gandhi each own a 38 percent stake".
Swamy had claimed that the Gandhis, as majority shareholders of YIL, benefited from the acquisition of AJL. He had alleged that AJL had received an interest-free loan of Rs.90.25 crore from the Congress and that the party transferred the debt to YIL for Rs.50 lakh.
At the time, AJL, which had Vora as its chairman, claimed that it could not repay the loan and agreed to transfer the company and its assets to YIL.
The Congress, while challenging the summons before the high court, had contended that Swamy was a political opponent and the criminal proceedings were initiated only with an intent to secure an oblique political objective. They had contended that the complaint made by Swamy against them was only "allegations without any supporting proof".
Video: