Advani deserves to become nation's President, Nitin Gadkari tells Aap Ki Adalat
New Delhi: Former BJP president and Union Road Transport, Shipping and Rural Development Minister Nitin Gadkari has said, senior BJP leader Lal Krishna Advani continues to be the "philosopher and guide" of the party and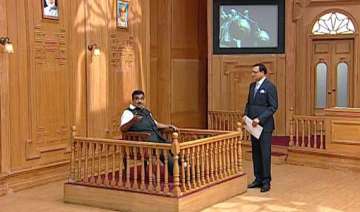 India TV News Desk
June 21, 2014 15:25 IST
New Delhi:
Former BJP president and Union Road Transport, Shipping and Rural Development Minister Nitin Gadkari has said, senior BJP leader Lal Krishna Advani continues to be the "philosopher and guide" of the party and he deserves to become the nation's President.
Replying to queries in Rajat Sharma's show Aap Ki Adalat, to be telecast on India TV tonight, Gadkari said, Prime Minister Narendra Modi had taken a conscious decision not to induct ministers above the age of 75 years.
Asked whether it was true that Advani wanted to become Lok Sabha Speaker, Gadkari replied: "Advaniji was Deputy Prime Minister and it would not have been proper, had he been made Speaker. Advaniji deserves to become the nation's President".  (Advaniji is desk ke up-pradhanmantri rahe. Iskey baad who Speaker baney, hamarey galey nahin utarta. Advanji agar banen, toh desh ke Rashtrapati banen).
Gadkari added: "All of us respect Advani ji, and we want he should get a post commensurate with his stature. Before becoming ministers, Narendrabhai and me went first to Atalji's and then to Advaniji's house to seek their blessings."
Gadkari dismissed as media speculation reports that another senior BJP leader Murli Manohar Joshi wanted to become the Planning Commission deputy chairperson.
He said: "Joshiji is our think tank, our senior leader. Our party will surely utilize his vast knowledge and experience."
Gadkari compared the position of senior BJP leaders with Bollywood megastar Amitabh Bachchan.
"Amitabh Bachchan is a great actor, I am one of his fans, but he cannot do the role of a hero now, because the generation has changed. Ten years from now, even I may be replaced, and somebody else may come in", said Gadkari.
On forming a government in the capital, Gadkari, who is party in-charge for Delhi,  said: "As of now, our party has not taken any decision. We will declare the names of our Delhi party chief and leader of legislature party within 3-4 days. There is no hitch. The decision can be taken within two hours".
Gadkari ruled out the return of Health Minister Dr Harsh Vardhan to Delhi politics, saying that "the party has decided that elected MPs would not resign. The return of Harsh Vardhanji to Delhi (politics) is not possible now".
Gadkari dismissed as baseless the allegation by Aam Aadmi Party that the BJP was trying to encourage defection among AAP MLAs.
"After the Congress and AAP lost the elections, their MLAs are worried. We have not contacted any of their MLAs, nor have we decided to contact them."
When Rajat Sharma asked whether six out of the 8 Congress MLAs in Delhi were in touch with BJP, Gadkari replied: "Several leaders in Congress are worried,  they are disenchanted with Rahul Gandhi's leadership, and they do often meet our leaders. I have not officially met them, nor has the BJP decided to take their support."
Gadkari praised the style of working of Prime Minister Narendra Modi. He said: " It is not true that ministers are afraid of the PM. It's an issue of image versus reality, and ground reality versus perception.
"Narendrabhai listens to ministers' views and even accepts some of them. He has a thorough knowledge of each and every department. IAS officers at the Centre have come to know this. The PM goes into the knitty-gritty of each issue. That's why departmental secretaries fear him. They understand the PM knows the issues very well.
"Till now, the PM was a figure who used to listen silently. But Modiji questions, he understands and goes into details. The nation this time has got a PM who understands, who has a vision, who has the capability to take decisions, and if the situation arises, he has the power to bulldoze decisions. He has the will power to bring 'achhey din' (good days)."
On the issue of taming pricerise of essential commodities, Gadkari said, "pre-cooling plants, cold storages, silos is the answer".
Gadkari recalled how BARC (Bhabha Atomic Research Centre) has set up a project in Niphad near Nashik, where onions undergo radiation and their shelf life increases by six months.
"States can easily spend Rs 5-6 crore on each such plant to store onions, and release them, when there is shortage". Similarly, cold storages should be set up in large numbers to store potatoes, vegetables and fruits, he added.
Gadkari said, Rs 1,10,000 crore worth fruits and vegetables perish each year, and Rs 85,000 crore worth wheat and rice perish due to lack of proper cold storages.
On the forthcoming Union Budget, Gadkari said, the Centre was facing a severe funds allocation crunch.
"When I go to Jaitleyji and ask more funds for my ministries, he says, there are no funds left even for existing schemes. Naturally, the economy needs bitter medicine, and only bitter medicine can restore one's health. It will take time."
Gadkari said, there was a $350 billion export-import imbalance, out of which Rs 80,000 cr is spent on edible oil import, $ 60 billion on electronics hardware import, and Rs 6 lakh crores on petroleum crude import. Work on major  mining and power projects are at a standstill, and in the road sector, nearly Rs 50,000 crore worth projects have become NPAs (non-performing assets).
"We have the largest coal reserves in Asia, and yet we import $ 20 billion coal every year. I can say, we are a rich nation with a poor population", said Gadkari.
Nitin Gadkari
in
Rajat Sharma's Aap Ki Adalat
will be telecast
tonight (June 21)
at
10 pm
, and the repeat telecast on
Sunday (June 22)
will be at
10 am and 10 pm
on
India TV.