Nitin Gadkari announces building of Ayodhya-Janakpur Ram-Janki Marg
Faizabad: Interlinking the development of villages with development of roads, Union minister Nitin Gadkari on Tuesday announced a grant of Rs 50,000 crore by the end of this year for construction of roads in Uttar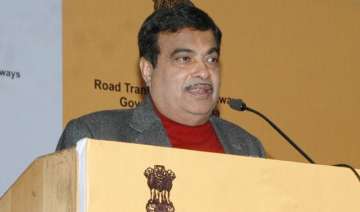 PTI
January 21, 2015 9:04 IST
Faizabad: Interlinking the development of villages with development of roads, Union minister Nitin Gadkari on Tuesday announced a grant of Rs 50,000 crore by the end of this year for construction of roads in Uttar Pradesh.
He also announced the construction of 'Ram-Janki Marg' at a cost of Rs 2,000 crore. The road will connect Ayodhya with Janakpur in Nepal, to which Sita, the wife of Lord Rama in the epic 'Ramayana', belonged.
According to the epic, after their marriage, Lord Rama and Sita took this route from Janakpur to Ayodhya.
The Union Road Transport Minister, who spent the day in eastern Uttar Pradesh inaugurating and laying foundation stone of various road projects in Gorakhpur and Faizabad, expressed his concerns over 'poverty' and 'starvation' prevailing in Uttar Pradesh.
Taking a dig at the Samajwadi Party-led state government over development of Uttar Pradesh, Gadkari said his Bharatiya Janata Party will bring happiness to the state.