Nitish discusses poll significance of Janata Parivar parties
Patna: Political significance of the proposed merger of Janata Parivar parties was discussed by Bihar Chief Minister Nitish Kumar in a meeting with RJD MLAs here today.  Kumar also asked the legislators of the ruling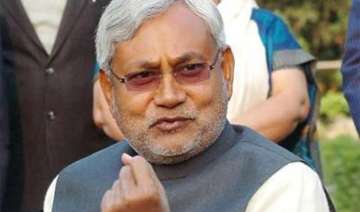 PTI
10 Apr 2015, 21:02:05 PM IST
Patna: Political significance of the proposed merger of Janata Parivar parties was discussed by Bihar Chief Minister Nitish Kumar in a meeting with RJD MLAs here today.  Kumar also asked the legislators of the ruling alliance to remain cautious with their rivals in the coming Bihar (Assembly) polls, as they could do anything to vitiate communal harmony and create disturbance.  
"Since we are going to become one soon we discussed on the political significance attached to it," Kumar told reporters after the hour-long meeting.
"We have to work together and in this context I told RJD MLAs in detail about the path of 'sushasan and vikash' (governance and development) charted by my government," he said signalling taking direct responsibility of constituencies held by RJD legislators.
The CM said like his caution to the JD(U) legislators, he had told the RJD MLAs that "Rivals with whom we have to fight in the coming Bihar (Assembly) poll could do anything to vitiate communal harmony and create disturbance. Hence we need to be alert and cautious."
Emerging from the meeting held at the chief minister's secretariat, RJDLP leader Abdul Bari Siddiqui said "Meeting with the CM symbolises that the merger is imminent and its process has picked up pace. Very soon it will be completed. We have been given various responsibilities and we will work to discharge them."
RJD with its 24 MLAs is already supporting the Nitish Kumar-led government in the state.
The RJD MLAs, he said, have been asked to ensure that good governance was maintained in the state and identify areas where development had been slow. Such areas would be taken up as a priority by the government.
Kumar issued instructions related to governance to the MLAs and asked them to ensure that they are complied with.  About the political issues discussed at the meeting, the RJD leader said Kumar had emphasised that a few specific parties may initiate riots or create communal tension in the society for the sake of garnering votes or capturing power.  "We have been asked to work to expose such parties and their designs. We will counter any attempt to sow disunity in the society and break down the morale of such parties," the RJD leader said.
Asked about the symbol of the new party, which will come into existence with the merger of JD(U), RJD, Samajwadi Party (SP), Janata Dal (Secular), Indian National Lok Dal, and  Samajwadi Janata Party (SJP), Siddiqui said, "Whatever it will be, it will demolish BJP."