Nitish dismisses speculation about Manjhi's removal
Patna: Senior JD(U) leader Nitish Kumar today dismissed speculation that his going to Delhi was meant to discuss the fate of Bihar CM with party chief Sharad Yadav, RJD and SP leaders. When reporters asked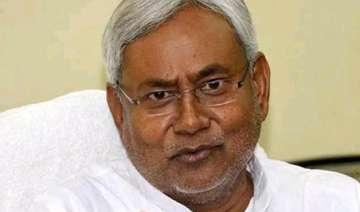 PTI
January 08, 2015 16:07 IST
Patna: Senior JD(U) leader Nitish Kumar today dismissed speculation that his going to Delhi was meant to discuss the fate of Bihar CM with party chief Sharad Yadav, RJD and SP leaders. When reporters asked Kumar whether Chief Minister Jitan Ram Manjhi would continue or not, he said "I am nobody to decide this."
He also dismissed speculation of his going to Delhi was meant to discuss the fate of Manjhi with party chief Sharad Yadav, RJD president Lalu Prasad and their SP counterpart Mulayam Singh Yadav. "There is no need to hold a meeting on Bihar issue in Delhi," Kumar told reporters at Patna Airport before leaving for the national capital.
Asked about murmuring in the party on the comment of Manjhi on four rebels after Patna High Court restored their membership in Assembly, Kumar said, "it's not good to speak in different voices while being in party...but such assertions have no impact on the health of JD(U)."
Kumar had handpicked Manjhi to replace him on CM chair after he resigned in May last year following JD(U)'s drubbing in the general election. But, some statements of Manjhi have created embarrassment for Kumar as well the party ahead of the Assembly poll later this year.
Manjhi while welcoming judgment of the HC had said he was not in favour of ending membership of rebel JD(U) MLAs.
Parliamentary Affairs Minister Shrawan Kumar, a close confidante of Nitish Kumar, had yesterday made light of CM's assertion saying he had the habit of taking back his own words and advised him to speak after due understanding of the subject.
Manjhi today said he was not "clever" and speak his mind on the basis of his long experience which makes headlines. "Sab Kuch Shikhi hamne par na shikhi hoshiyari, sach hai duniya walo main hu anari (I have learnt everything except cleverness, it's true I am a novice), Manjhi said using the famous Bollywood song while delivering a speech at a function here.