Nitish Kumar to hold 'Sampark' rallies in all 243 assembly constituencies
Patna: Senior Janata Dal (United) leader Nitish Kumar will hold 'Sampark' rallies in all 243 constituencies of the state starting from January 17, as part of his party's preparation for the upcoming Assembly elections in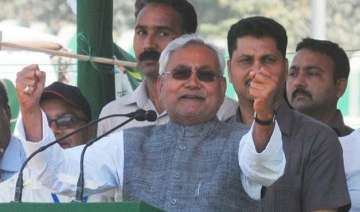 PTI
January 05, 2015 15:58 IST
Patna: Senior Janata Dal (United) leader Nitish Kumar will hold 'Sampark' rallies in all 243 constituencies of the state starting from January 17, as part of his party's preparation for the upcoming Assembly elections in Bihar.
The former Bihar Chief Minister will also organise a state-level meeting of party workers on February 15 at Gandhi Maidan in state capital.
"The rallies will be called 'Sampark Rally' and held assembly constituency-wise across the state. These will be for the public and the common people will participate in them," Kumar said while talking to media on Sunday after the conclusion of two-day summit of JD(U) leaders at party headquarters in the state capital.
The public rallies would kick off on January 17 from Sikta assembly constituency in West Champaran district followed by another one on January 18 at Madhuban in East Champaran district.
"Our focus in the rallies will be on governance. We will tell the people to be cautious of BJP as there is difference between their words and deeds. We will highlight the discrimination by the Centre against Bihar, breaking of promises made by BJP to the people here, the issue of bringing back black money and injustice against farmers," said Kumar.
The former Chief Minister alleged that the Central government has failed to provide better Minimum Support Price (MSP) to farmers, which is driving them to commit suicide.
The land acquisition ordinance will allow taking away of lands from them for use by corporates and real state companies.
"Young farmers are committing suicide in Gujarat. Injustice has been meted out to farmers and the youths of our country in the name of false promises. We will raise all these issues and tell our people that they (BJP) just promise, while we did what we said," the JD (U) leader said.
Flanked by JD(U) state president Vashistha Narayan Singh, Food and Civil Supplies minister Shyam Rajak, Rajya Sabha member RCP Singh and others, Kumar said a state-level political meeting will be held at Gandhi Maidan in Patna on February 15 as part of the second phase of his Sampark Yatra.