Nitish reviews poll debacle with candidates; minister quits
Patna: Heads have started rolling after the poor showing by ruling JD(U) in the recent Lok Sabha election in Bihar, with a senior minister Gautam Singh tendering his resignation today.Singh, minister for Science and Technology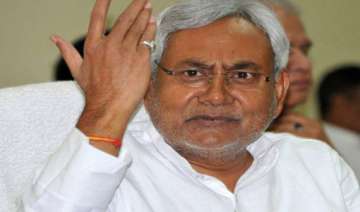 PTI
June 02, 2014 21:30 IST
Patna:
Heads have started rolling after the poor showing by ruling JD(U) in the recent Lok Sabha election in Bihar, with a senior minister Gautam Singh tendering his resignation today.
Singh, minister for Science and Technology in the Jitan Ram Manjhi cabinet, submitted his resignation to the CM.Confirming his resignation, Singh told PTI he did so on his own to work for the organisation.
Singh was present during the day-long review meeting on JD(U)'s dismal performance in the Parliamentary poll at the residence of former Chief Minister Nitish Kumar.
Party sources said at least four other ministers have handed over their resignation letters to Manjhi expressing their desire to work for the party.
There was, however, no official confirmation of this. Education Minister P K Shahi, among those who believed to have given resignation letter to the CM, evaded a direct reply when asked to confirm the news.
"This is a mystery which I cannot share with you," Shahi told reporters after the oath taking ceremony of 14 new ministers.