Nitish rules out possibility of JD(U), Cong alliance
Patna: Amid speculations about chance of Congress going with JD(U) instead of RJD, Chief Minister Nitish Kumar today categorically ruled out this possibility and said even a last minute decision on special category status to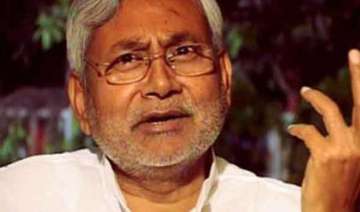 PTI
March 04, 2014 16:27 IST
Patna:
Amid speculations about chance of Congress going with JD(U) instead of RJD, Chief Minister Nitish Kumar today categorically ruled out this possibility and said even a last minute decision on special category status to the state could not pave way for such tie up.
"Its baseless speculation...there is no truth in this," Kumar told reporters ruling out any chance of alliance with Congress if it agrees to provide special category status to Bihar to pave way for the tie-up.
"Sawal paida nahin hota hain (the question does not arise)," he said on chance of JD(U) and Congress forging alliance for the coming elections.
"There has been no such proposal from the beginning...its unnecessary speculation," he said.
Congress and RJD of Lalu Prasad are natural allies, he said.