No conflict, party needs guidance of both Sonia, Rahul: Congress
New Delhi: Amidst differing viewpoints emerging within the party on the question of who should be its next chief, Congress today said that Sonia and Rahul Gandhi were "both leaders of the party whose continued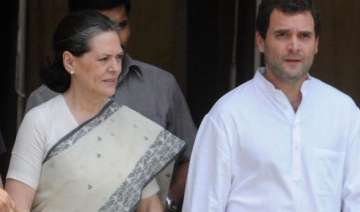 PTI
April 07, 2015 22:15 IST
New Delhi: Amidst differing viewpoints emerging within the party on the question of who should be its next chief, Congress today said that Sonia and Rahul Gandhi were "both leaders of the party whose continued guidance" is needed to give strength to the outfit.
"There is no conflict. Sonia Gandhi and Rahul Gandhi are both leaders of the party whose continued leadership, guidance, love and affection is needed to ensure a strong organisation," the in-charge of Congress's Communication department, Randeep Surjewala, told reporters here.
"Sonia is the president of the party and, whenever there is any change, you will be intimated," he said in reply to a volley of questions.
On party spokesman Sandeep Dikshit pitching for Sonia to continue as the Congress chief, Surjewala said that everyone in the party regards her as their leader.
Dikshit, speaking in his personal capacity, has sparked a debate in Congress with his remark that Sonia is the "leader" for "99 per cent" of the partymen and she is needed at the helm now more than ever in the past.
Surjewala's remarks come a day after another senior leader, Ambika Soni, insisted that Congress needs Sonia as its president while party general secretary Digvijay Singh pitched for Rahul, saying that a "generational change has to take place".
"There is no question of having one at the cost of the other. The Congress president is our president. We need her... She has been moving from state to state, meeting farmers and getting the party energised. The whole party is upbeat," Soni had said.
On the other hand, wondering whether one can "defy the law of nature", Singh has insisted that a generational change has to take place in the party.
There has been intense speculation within party circles that Rahul could be elevated as the Congress President at the AICC session expected to take place by May.
The Congress vice president has been away on a sabbatical for more than a month and is expected to be back within two weeks. Talk is that the issue of the next Congress chief will gain momentum once Rahul returns. Sonia, who has led the party for 17 years, had told the media in Amethi last week that he will be "back soon".
Significantly, AICC has dismissed reports that it has decided to postpone its session to September, thereby delaying a change at the helm by another six months.