No going back on Jaitapur nuke power project: Fadnavis
Mumbai: Ignoring ally Shiv Sena's opposition to the proposed Jaitapur nuclear power plant, Maharashtra Chief Minister Devendra Fadnavis today asserted that there is no question of going back on the project as it will be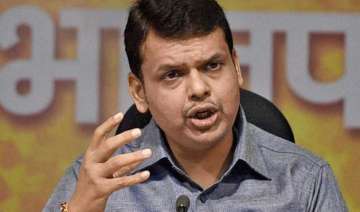 PTI
April 19, 2015 19:41 IST
Mumbai: Ignoring ally Shiv Sena's opposition to the proposed Jaitapur nuclear power plant, Maharashtra Chief Minister Devendra Fadnavis today asserted that there is no question of going back on the project as it will be a big national waste and also India needs to make a major leap in power generation.
"It (Jaitapur power plant) is now at a stage where one cannot go back," Fadnavis told PTI in an interview.  The project was among the 17 pacts signed between the two countries during Prime Minister Narendra Modi's recent visit to France.
The Jaitapur project in Maharashtra's Ratnagiri district, where French company Areva is to set up six nuclear reactors with total power generation capacity of about 10,000 MW, is stuck for long following protests and differences over the cost of electricity to be generated.
"The previous government had started this (Jaitapur nuclear power) project and brought it to a certain level. It is now at a stage where one cannot go back. You cannot indulge in national waste," Fadnavis said.
"The Shiv Sena has long been opposing the Jaitapur nuclear project. The BJP feels that India requires nuclear power and when the PM does something, he does it for the country's benefit. This project will be completed at any cost now," he said.
According to Shiv Sena, the energy produced from the project will be beneficial for the whole country, but Maharashtra would be at the maximum risk.  
Sena MP Sanjay Raut had earlier said that the government should take into consideration the farmers' concerns on the Jaitapur nuclear power project. He had also said that his party will support the people who decide to protest against the project.