No reason for Opposition to oppose land act: Paswan
Jaipur: Union Food Minister Ramvilas Paswan today took a jibe at political parties including Congress, saying there was no reason for them to oppose the Land Acquisition Act."There is no reason for Congress to protest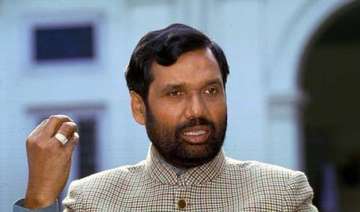 PTI
April 03, 2015 16:59 IST
Jaipur: Union Food Minister Ramvilas Paswan today took a jibe at political parties including Congress, saying there was no reason for them to oppose the Land Acquisition Act.
"There is no reason for Congress to protest or condemn amendments in the land act which was brought through ordinance by Modi government. The land act would be a vardan (boon) to farmers in all aspects", Paswan told reporters.  Lok Janshakti Party (LJP) leader said, "The protest against the act is not by any farmers but it is by those organisations and political parties who do politics in the name of farmers", he said.
LJP firmly supports the land act which got nine amendments and nicely explained by Prime Minister Narendra Modi, the minister said.
Describing the amendments made in the act, Paswan said the farmers would get four times more money on the rate of their land if sold to government institutes like Railway, hospitals.  Not only the farmers, but farm-labourer's son will get a government job on the deal of his land, he added.
The new small industries would come up within one km of road along both sides, he said, adding there would be lot of job opportunities for village boys.
When asked about the formation of 'Janata Parivar', Paswan said, "Ye log saath chal nahin saktai...do saal alag bhi rahein to ye ek saal saath nahin chalenge (These people cannot walk together...if they live for two years separately, but they cannot walk together for one year)".
"I am hearing their partnership for the last six months, they cannot be one. LJP will contest Bihar assembly polls with BJP and win the Assembly by ¾ majority...no confrontation between both of us", he said.
When asked whether the BJP or LJP will look forward to former Bihar CM Jitan Ram Manjhi's support in Bihar Assembly polls, Paswan made no comments.