'No reputation, character': Arun Jaitley gives Arvind Kejriwal a taste of his own medicine
New Delhi: Slamming Delhi Chief Minister Arvind Kejriwal and five other leaders of the Aam Aadmi Party (AAP) for having launched a "calculated" defamatory campaign against him and his family with "ulterior motives" to get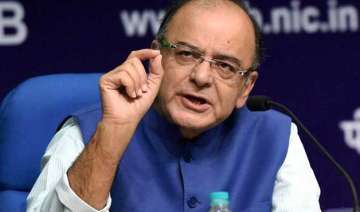 India TV News Desk
February 06, 2016 10:38 IST
New Delhi: Slamming Delhi Chief Minister Arvind Kejriwal and five other leaders of the Aam Aadmi Party (AAP) for having launched a "calculated" defamatory campaign against him and his family with "ulterior motives" to get political mileage, Finance Minister Arun Jaitley today told the Delhi High Court that the right to freedom of speech and expression was "not absolute" and that it "did not extend a licence to anyone to defame any other citizen having fundamental rights under the Constitution".
Alluding to Kejriwal's statement that despite BJP's success in 2014 lok sabha polls, "this plaintiff (Jaitley) lost by a margin of more than 1,00,000 votes" and "Indian democracy has never accepted his claim of public character", Jaitley used the same logic to question the AAP leader's own standing.
"It is obvious in his (Kejriwal) own eyes, the defendant 1 (Kejriwal) does not possess either a reputation or character since he was resoundingly defeated in 2014 LS polls by a margin of over 3.37 lakh votes," Jaitley told the court.
Jaitley's comments came in response to the written statements filed by Kejriwal, Raghav Chadha, Kumar Vishwas, Ashutosh, Sanjay Singh and Deepak Bajpai on a civil defamation suit filed against them by him.
He has alleged that statement of defendant 1 (Kejriwal) that the plaintiff does not have a reputation or character to protect "demonstrates his (Kejriwal) warped, flagitious and degenerate mindset and political bankruptcy".
"Defendant 1 (Kejriwal) does not even understand the basic concept of reputation, character and good standing," Jaitley's reply said, adding "there is not a shred of truth behind any of his (Kejriwal) false and per se defamatory statements".
In his response, Jaitley has further contended that the "defendants have, individually and collectively, in a calculated manner launched a per se defamatory campaign against plaintiff (Jaitley) and his family members for gaining political mileage and ulterior motives".
Jaitley has sought Rs 10 crore in damages from them for issuing allegedly false and defamatory statements against him and his family in connection with alleged irregularities in the Delhi and District Cricket Association (DDCA) when he was its President.
Kejriwal and the others have claimed that the suit was "a classic instance of political vendetta" with a view to "harassing" them and curbing their right to free speech.
The Delhi CM and others also moved an oral plea today, through senior advocate H S Phoolka, seeking time to file more documents in support of the statements made by them.
The pleas were opposed by senior advocates Rajiv Nayar and Pratibha M Singh, appearing for Jaitley, who contended that no more time be given as the defendants (Kejriwal and others) were expected to file all documents by today.
However, Joint Registrar Kovai Venugopal, who is hearing the matter, granted Kejriwal and others three weeks time as a "last opportunity" in the "interest of justice" to file the documents and listed the matter on March 15.
In his response, Jaitley further said "there is not an iota of evidence to show that plaintiff was involved in any corruption while he was President and later Chief Patron of DDCA. As such, question of asking for any investigation does not arise at all."
"It is submitted that constitutional right to freedom of speech and expression is not absolute and such right does not extend to anyone to defame any other citizen having fundamental rights under the same Constitution," the response stated.
It further said the defendants' "malicious campaign" against Jaitley and his family members commenced from December 15, 2015, "as a counter-blast" to the CBI raid of bureaucrat in the Delhi Secretariat while denying that the raid was a malafide and motivated exercise as claimed by the defendants.
Jaitley has also said that the allegedly defamatory statements made by the Aam Aadmi Party (AAP) leaders were "not based on information or material which forms part of public record", nor were they made in public interest.
Jaitley has alleged that defendant 1 was "trying to take refuge in statements of third parties who have not made any allegations that plaintiff is corrupt or that he has siphoned off Rs 57 crore".
"Defendant 1 is not only guilty of embellishing and propogating any non-existent allegations against the plaintiff but he is also guilty of manufacturing and disseminating false and malicious allegations against plaintiff which are per se defamatory," Jaitley's reply said.
Kejriwal had on January 12 filed a written statement in the high court claiming that by filing the defamation suit, Jaitley has attempted to "browbeat the defendants (Kejriwal and others) into silence and dissuade them from drawing attention to the mismanagement and rampant financial irregularities plaguing the DDCA and from inviting scrutiny into the manner of functioning of the said association."
Kejriwal in his response had also said he had made the statements against Jaitley in public interest and based upon material and information which are part of public record since 2013 and asked why the Union Minister did not take any legal action against others, including BJP MP Kirti Azad and Bishen Singh Bedi, who had made such allegations.
He had alleged that Jaitley was privy to the information relating to mismanagement of the affairs of the DDCA, but instead of taking action, "advised the police to stop making any inquiry".
Jaitley has already denied all these allegations. 
(With PTI inputs)