No rift over Advani, Modi: BJP
Kolkata: Denying a rift within the party over Narendra Modi, the BJP Friday denied that having the Gujarat chief minister as its national election campaign chief would hurt the prospects of forging alliances with other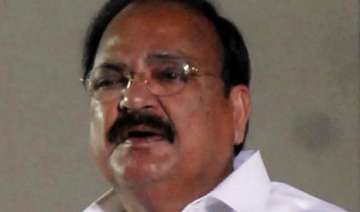 IANS
August 16, 2013 20:38 IST
Kolkata:
Denying a rift within the party over Narendra Modi, the BJP Friday denied that having the Gujarat chief minister as its national election campaign chief would hurt the prospects of forging alliances with other parties.
BJP leader M. Venkaiah Naidu rubbished reports that there was a "conflict of views" between Modi and BJP leader L.K. Advani.
Advani had Thursday said Independence Day was not a day to "criticise one another", after Modi attacked Prime Minister Manmohan Singh.
"There is no conflict of views because Advani-ji has not named anyone. I have gone through his statement very carefully," Naidu told mediapersons on queries whether Advani's comments were a rebuke for Modi for slamming the prime minister.
Naidu defended Modi saying Manmohan Singh had failed the country and everybody had the right to question him.
The former BJP president said Modi's image would not be a factor in his party allying with others.
"Alliances are not based on personalities, they are based on agenda. The question is not about Modi. We have not yet declared him the prime ministerial candidate," Naidu said.
"The question is whether other parties want to join hands with the BJP. The answer is 23 parties are already with us," Naidu added.
Following Modi's elevation as the BJP's campaign chief, the Janata Dal (United) severed its 17-year-old ties with the National Democratic Alliance.
Naidu rubbished reports that the BJP was working towards realigning with West Bengal Chief Minister Mamata Banerjee's Trinamool Congress, but said the party was open to others who want to free the country from the clutches of the Congress.
"I am not talking of any particular party, but once the elections happen there will be political alignment and realignment. I don't want to speculate, but whoever wants to free the country from the clutches of the Congress is welcome," said Naidu.
About the BJP's prime ministerial candidate, Naidu said: "The ruling party (Congress) has not declared their candidate yet, then why should the opposition be in hurry? We will declare at the appropriate time."