No Talks With Maoists, Says West Bengal CM
There was no possibility of holding talks with Maoists or tribal group PCPA, West Bengal Chief Minister Buddhadev Bhattacharjee said on Sunday even as he maintained that law and order in Naxal-infested Lalgarh and adjacent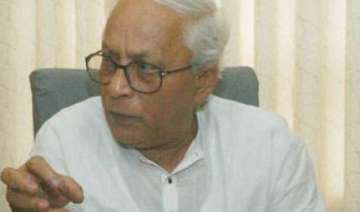 PTI
November 08, 2009 16:00 IST
There was no possibility of holding talks with Maoists or tribal group PCPA, West Bengal Chief Minister Buddhadev Bhattacharjee said on Sunday even as he maintained that law and order in Naxal-infested Lalgarh and adjacent areas has improved but more work needs to be done. 
Bhattacharjee, who met top civil and police officials of Naxal-hit West Midnapore, Bankura and Purulia districts, also alleged that opposition Trinamool Congress and some NGOs were hand-in-glove with the Maoists and said it was "pathetic" that a major party was having "links" with a banned group. 
"There is no possibility of speaking with the Maoists or the PCPA. They must lay down their arms and abjure violence and that is the primary condition set by the Centre," he told reporters when asked if the government will talk to Naxalites.
To a question whether West Bengal is part of any joint anti-Maoist operation, Bhattacharjee, who was winding up his two-day visit to West Midnapore, said, "the operation does not cover West Bengal. It is for the other three states. We can handle the problem all by ourselves.
"We had asked for additional forces and six companies have been sent which is enough to control the Maoists."
Bhattacharjee said the law and order situation at Lalgarh and its adjacent areas has improved considerably, but keeping in view the recent Maoist attacks, security has been strengthened.PTI
 "After reviewing the situation in Jhargram sub-division, we have decided to increase the number of policemen in police stations, build boundary walls, keep sandbags and provide more weapons including sophisticated arms to combat the Maoists and PCPA activists," Bhattacharjee said.
When it was pointed out that despite the existence of joint forces, killings are taking place at Lalgarh and nearby areas, he said, "A year back the police was not able to enter the area and the entire area was taken over by the Maoists and the PCPA. It is true we are not able to control the whole area, but our forces have gained control over strategic points, major roads and villages."
The chief minister, who earlier held a meeting with Chief Secretary A M Chakraborty, DGP Bhupinder Singh and DMs and SPs of West Midnapore, Bankura and Purulia, said, "We are now trying to enter the jungles and deep into villages of the area and consequently more areas will fall under our control."
He alleged that there was proof of Trinamool and some NGOs being hand-in-glove with the Maoists and this was making the job of the joint forces difficult. "A major political party having links with a banned organisation -- nothing can be more pathetic."
 Asked to say categorically if TC chief Mamata Banerjee has links with the ultra-left organisation,  Bhattacharjee said, "I cannot name any person. I can only say about the party and the rest, you should understand." PTI