Non-bailable warrant against Union Minister Kalraj Mishra
Pilibhit (UP): A court here has issued a non-bailable warrant against Union Minister Kalraj Mishra in connection with alleged violation of pole code by him during 2009 Lok Sabha polls.Chief Judicial Magistrate (CJM), M Abdul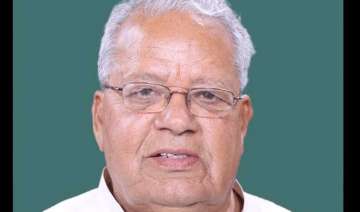 PTI
January 13, 2015 21:04 IST
Pilibhit (UP): A court here has issued a non-bailable warrant against Union Minister Kalraj Mishra in connection with alleged violation of pole code by him during 2009 Lok Sabha polls.
Chief Judicial Magistrate (CJM), M Abdul Kayum, issued the warrant yesterday and fixed February 28 as the next date of hearing after the Union minister of Micro, Small and Medium Enterprises did not turn up for hearing.  A case of model code of conduct violation was registered against the senior BJP leader on March 29, 2009 during Lok Sabha polls as Mishra along with former MLA VK Gupta held a meeting in Collectorate, flouting the directives.
While Gupta had been granted bail earlier, Mishra neither appeared in the court nor had taken bail.