Nothing to cheer about in the country under BJP rule: Lalu
Patna: RJD President Lalu Prasad today said there was nothing to cheer about in the country in the New Year under BJP rule and said the party's downfall would start from Bihar in the Assembly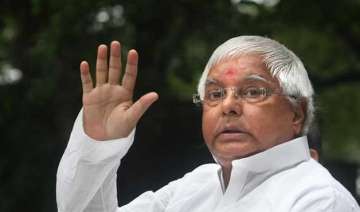 PTI
January 02, 2015 17:09 IST
Patna: RJD President Lalu Prasad today said there was nothing to cheer about in the country in the New Year under BJP rule and said the party's downfall would start from Bihar in the Assembly poll this year.  "We wish each other happy New Year but I see nothing to cheer about in the country this time under BJP rule," Prasad said.
"The way things are changing with them(BJP) at the helm, like religious conversion of the poor, ministers using unparliamentary language for opposition leaders, and glorification of Nathuram Godse...that day is not far when they will replace tri-color with their saffron flag," the RJD chief alleged.
On BJP's winning streak in state elections in Maharastra,Haryana, Jammu & Kashmir and Jharkhand after victory in Parliamentary election, Prasad said it was due to "people falling in the trap of their (BJP's) false promises."
"Prime Minister Narendra Modi hoodwinked voters in all these states by promising to make them number one state in the country," he said and asked, "has Maharashtra and Haryana become number one state as he had promised?" Prasad said merger of parties in old Janata Parivar had been completed except for some formalities.
"Dil mil gaya hai to samjho vilay ho gaya hain, bus ab kewal kagaj par kaam baki hain (convergence of our heart means merger of Janata Parivar has been achieved only some formalities are left to be completed on paper)," he said.
About old acrimony with JD (U) leader Nitish Kumar and whether workers of the two parties would forget their differences, Prasad refused to accept that Kumar conspired to send him to jail in a multi-crore fodder scam case and instead blamed BJP leaders for it.
"Nitish Kumar was not a petitioner against me. Rather it was BJP leaders Sushil Kumar Modi and Ravishankar Prasad who had gone to court against me," he said.  He said it was in his fate to go to jail and "I do not accept Nitish Kumar responsible for it."
Claiming BJP's downfall will begin from Bihar in the Assembly poll later this year, the RJD chief said division of votes had helped BJP win in the general election in the state and highlighted RJD's 29 per cent vote and JD(U)'s 19 per cent vote share in the polls.
On BJP claiming return of "Jungle Raj II" in the wake of joining of hands between RJD and JD (U), Prasad said these were words of "frustration" of BJP fearing the combined strength.