Nothing To Do With Karnataka Minister's Mining Firm: Jagan
Congress MP Y S Jagan Mohan Reddy on Tuesday said he had nothing do with the alleged illegal mining activities of Karnataka minister G Janardhana Reddy in Andhra Pradesh's Anantapur district.  "In what way, mines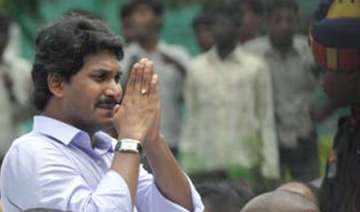 PTI
November 17, 2009 21:05 IST
Congress MP Y S Jagan Mohan Reddy on Tuesday said he had nothing do with the alleged illegal mining activities of Karnataka minister G Janardhana Reddy in Andhra Pradesh's Anantapur district. 
"In what way, mines in Anantapur district and Jagan Mohan Reddy are connected? If you can prove that at least a rupee is transferred from there to here, you can say that there is a link," he told reporters in Hyderabad. 
Jagan's assertion came in the wake of TDP-led Opposition's allegations of a link between Janardhana Reddy and late Y S Rajasekhara Reddy's family.  Asked about media reports that the address of a partner firm in Obulapuram Mining Company (OMC), owned by Reddy, and the media house run by him (Jagan) was same, he asked what is wrong with it.
 "What happens (if the address is same)? You are working for me or you are my neighbour. If the same address is given for the purpose of convenience, is it wrong? If you get a rupee and you keep it with me, then it is wrong," Jagan said.
 To a query, the Congress MP said he would welcome if a CBI probe is ordered into the alleged irregularities by the BJP minister's firm as demanded by the Opposition parties.