Now a Hurriyat intervention in PDP-BJP alliance in J&K
New Delhi: For the first time in political history, a top separatist leader discussed tie-up of two parties for government formation in Jammu and Kashmir.Abdul Ghani Bhat, a senior functionary of Hurriyat went on to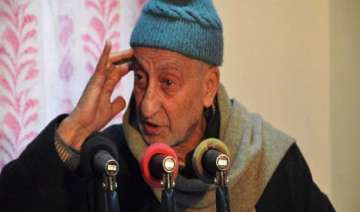 India TV News Desk
January 02, 2015 9:25 IST
New Delhi: For the first time in political history, a top separatist leader discussed tie-up of two parties for government formation in Jammu and Kashmir.
Abdul Ghani Bhat, a senior functionary of Hurriyat went on to meet PDP patron Mufti Mohammad Sayeed at his residence, late on Wednesday evening, to discuss PDP-BJP alliance with him.
This came soon after Mehbooba Mufti's meeting with the Govenror N.N. Vohra earlier on the same day.
On being asked about the same, he said, "Snakes can marry rats and bulls chase lizards. Anything can happen with reference to government formation. But at present we can say let's not count stars which lie beyond."
Although the obscure statement did not hint of either an alliance or more differences in PDP-BJP government formation, however, the involvement of a top separatist leader itself is raising eyebrows.
On being probed further, he said, "Mufti and he are friends who studied together at the Aligarh Muslim University, but who "belonged to two different ideologies".
He confirmed Wednesday's meeting saying, "There's no harm in meeting anyone as agendas are not discussed individually. Bhat said peace can't coexist with dispute."
He further added, "Till 1999, Kashmir had one dimension when we used to pitch for accordance of right to people for deciding their fate. After that, in my opinion, it has become an issue of survival, not only for Kashmir but for entire South Asia.
For development and prosperity, peace and stability is inevitable. Elections and a new government could in no way undermine the dissent of Kashmiris "who have been struggling for their rights for decades".
In a discussion with BJP on the same, some of the top sources have indicated 'soon to come major developments' in the government formation of J&K.