Obama praise: Rahul Gandhi pays left-handed compliment to Modi
New Delhi: Rahul Gandhi on Wednesday paid a left-handed compliment to Prime Minister Narendra Modi over US President Barack Obama's praise for him as he compared him with Mikhail Gorbachev, whose tenure saw disintegration of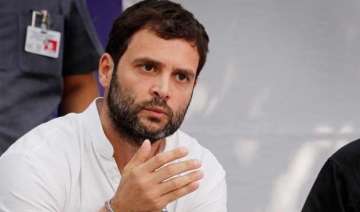 PTI
April 22, 2015 19:27 IST
New Delhi: Rahul Gandhi on Wednesday paid a left-handed compliment to Prime Minister Narendra Modi over US President Barack Obama's praise for him as he compared him with Mikhail Gorbachev, whose tenure saw disintegration of Soviet Union.
Obama has written a "very long" piece in praise of Modi, Gandhi said in Lok Sabha while referring to a brief profile written by the US President in Time magazine which put the Indian leader among the 100 most influential people in the world.
"For the first time a US President has spoken so highly of an Indian Prime Minister. This has happened for the first time in the last 60 years. Obama is not a small man. He is the US President. Earlier, such praise was showered only on Gorbachev, because he had helped the US," the Congress Vice President said. He did not elaborate but Gorbachev's tenure had seen the disintegration of USSR and was the last President of the Soviet Union.
Gandhi, who made the comment while raising the issue of net neutrality, said he had read the article at the house of party President and his mother Sonia Gandhi on Tuesday. Speaker Sumitra Mahajan, though, was not pleased as she asked him to stick to the issue. The Speaker also reminded him that the issue of net-neutrality had already been raised in the House by CPI(M) member M B Rajesh on Tuesday.