Omar Abdullah takes a swipe at Mufti over Kashmiri Pandit township issue
New Delhi: National Conference working President Omar Abdullah today took a dig at Jammu and Kashmir Chief Minister Mufti Sayeed's stand in the state Assembly on townships for displaced Kashmiri Pandits, going back on his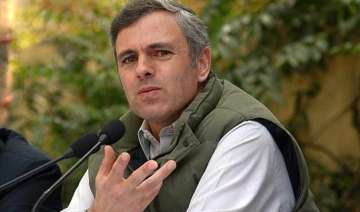 PTI
April 09, 2015 19:32 IST
New Delhi: National Conference working President Omar Abdullah today took a dig at Jammu and Kashmir Chief Minister Mufti Sayeed's stand in the state Assembly on townships for displaced Kashmiri Pandits, going back on his last month's categoric assertion that he will build segregated clusters for them.
As soon as Sayeed finished his statement on the floor of the state Assembly, Omar, former Chief Minister of the state, tweeted, "Will someone please remind Mufti Sb about his answer given to me during Gov. address discussion regarding Jagti type townships in the Valley.
"He was categorical in his assertion that it is the intention of his Govt to build segregated townships for Pandits rather than integration," Omar tweeted.  Sayeed, while replying to the motion of thanks on Governor's address in the state assembly, had said his government will construct Jagti-type flats for Kashmiri Pandits in the Valley when Omar had sought a clarification about return of KPs.
A senior National Conference leader took a jibe at PDP saying ever since the party has come into power "we have only seen series of somersaults. Be it Armed Forces Special Powers Act, state flag and now pandits.
"At this rate we may see PDP competing at Olympics in gymnasium field," the leader said.