Omar Holds Public Meeting In Militants Hub
Undeterred by the presence of over 100 militants in Poonch district's Bafliaz mountainous belt, Jammu and Kashmir CM Omar Abdullah addressed a public meeting in the terror hub after sunset winning hearts of locals.  "He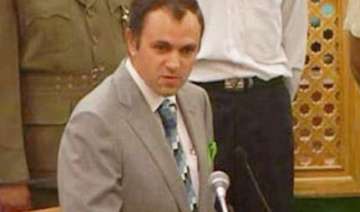 PTI
November 29, 2009 21:14 IST
Undeterred by the presence of over 100 militants in Poonch district's Bafliaz mountainous belt, Jammu and Kashmir CM Omar Abdullah addressed a public meeting in the terror hub after sunset winning hearts of locals. 
"He is probably the first politician to stand on the Bafliaz soil at 8 P.M. No politician has dared to venture out in Bafliaz (Poonch) after sunset," local leader Amtiyaz Malik said. 
"We never thought he (Omar) will make it to Bafliaz. He is the bravest of the brave. He has definitely risked his life," Gulshan Bi, who attended the public meeting on Friday, said. 
"It is a place worst-hit by militancy. Several incidents take place every week in the region," a police officer said. 
"Over 100 militants of LeT, Hizbul Mujahideen, JeM and HUJI are still operating in the Bafliaz-Surankote area," he said. 
Security was beefed up for the CM's visit in this "most terror-prone valley", DSP Naseer Ahmed said. 
Over 400 ultras, 80 per cent of them foreign mercenaries, were killed, in Baflaiz-Surankote belt in past four years, he said. 
Despite inclement weather, Abdullah kept his date with the people of the belt, a hot bed of militants, and unveiled a granite memorial there.
 
"I am here at the night. I did not cancel my visit despite weather problems," the chief minister said. PTI