On Rajiv's birth anniversary, Sonia plans massive launch of Food Security scheme
New Delhi/Gurgaon:  A massive launch of Food Security scheme has been planned today by Congress president Sonia Gandhi to coincide with the birth anniversary of her late husband Rajiv Gandhi. Projected as a "gamechanger" for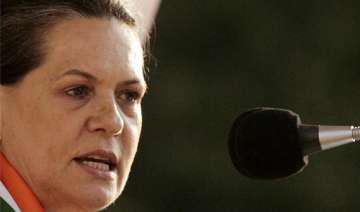 India TV News Desk
August 20, 2013 8:55 IST
New Delhi/Gurgaon
:  A massive launch of Food Security scheme has been planned today by Congress president Sonia Gandhi to coincide with the birth anniversary of her late husband Rajiv Gandhi.
Projected as a "gamechanger" for the forthcoming Lok Sabha polls, the Food Security Bill will be taken up for discussion in Lok Sabha today soon after question hour with UPA chairperson Sonia Gandhi expected to take part in the debate.  
Six hours have been allotted for debate on this crucial bill involving expenditure up to Rs 75,000 crore.
In a last-ditch effort, floor coordinators of the UPA Govt have  reached out to opposition and other supporting parties like Samajwadi Party for amendments to the bill.  
Congress President Sonia Gandhi will roll out the Food Security scheme at a mega function in Delhi's talkatora Stadium at 2 pm today in the presence of Delhi chief minister Sheila Dikshit and Food Minister K V Thomas.
In  Panipat,  Haryana Chief Minister Bhupinder Singh Hooda will launch the ambitious Food Security scheme in the state to mark the occasion of Rajiv Gandhi's birth anniversary. Haryana state Congress chief Phool Chand Mullana will launch the scheme from Gurgaon.
The Samajwadi parliamentary party led by Mulayam Singh Yadav will meet this morning to take a final call on the Food Security Bill, which it had been opposing as "anti-farmer".