Overconfidence could harm BJP in LS polls: Sharad Pawar
New Delhi: Narendra Modi-led BJP could suffer in the Lok Sabha polls due to "overconfidence" as its campaign is going on the lines of its 2004 "India shining" slogan, NCP chief and Union Agriculture Minister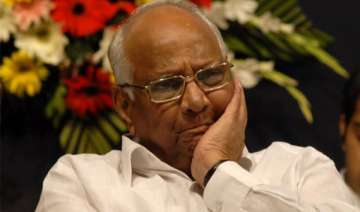 PTI
March 20, 2014 17:31 IST
New Delhi
: Narendra Modi-led BJP could suffer in the Lok Sabha polls due to "overconfidence" as its campaign is going on the lines of its 2004 "India shining" slogan, NCP chief and Union Agriculture Minister Sharad Pawar said today.
Pawar, a prominent leader in the Congress-led UPA, told PTI that he does not feel that the BJP will come near the magic mark despite the high-profile campaign. 
He suggested that the Congress needed to be more pro-active at a time when Modi-led BJP is striving hard to reach out to the masses.
"Congress is the main party of the UPA", he remarked when asked how the UPA should face the challenge posed by the main opposition party and its leader in the polls.  "I am worried about stability", he said when asked whether he visualised that the post-poll scenario will be a repeat of 1996 polls when BJP emerged as the single largest party but its government could last only 13 days.  
Dismissing suggestions of a Modi wave, Pawar said that he does not feel that the "one man campaign" has been able to generate a climate favourable for the main opposition and is apprehensive that it is marred by overconfidence.