Pakistan will never dare to attack if Modi becomes PM: Rudy
Nagpur, Aug 11: BJP leader Rajiv Pratap Rudy today said, Pakistan will never dare to attack India if Narendra Modi becomes the prime minister. Speaking to reporters here after meeting RSS chief Mohan Bhagwat, Rudy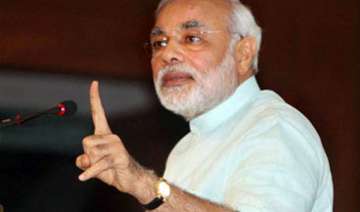 India TV News Desk
August 11, 2013 7:45 IST
Nagpur, Aug 11:
BJP leader Rajiv Pratap Rudy today said, Pakistan will never dare to attack India if Narendra Modi becomes the prime minister.
Speaking to reporters here after meeting RSS chief Mohan Bhagwat, Rudy said, a situation is now evolving in which the nation has no alternative but Modi as PM "to teach Pakistan a lesson".
Rudy said, Modi can confront Pakistan, and the Congress has been proved a failure .
The BJP leader said, Pakistan's claim about "chasing out Dawood Ibrahim" was baseless and need not be taken at face value.
On IAS officer Ashok Khemka's charges against Sonia's son-in-law Robert Vadras, Rudy said, it was for the Congress or its representative to reply.