Pappu Yadav ticks off Lalu's remark on succession in RJD
Katihar (Bihar): In what came as a challenge to RJD supremo Lalu Prasad's authority, party MP Rajesh Ranjan alias Pappu Yadav today questioned Prasad's reported remark that only his son would be his natural successor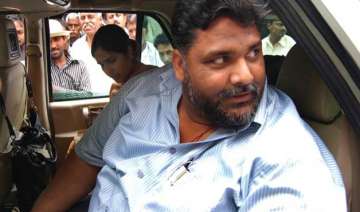 PTI
April 07, 2015 22:53 IST
Katihar (Bihar): In what came as a challenge to RJD supremo Lalu Prasad's authority, party MP Rajesh Ranjan alias Pappu Yadav today questioned Prasad's reported remark that only his son would be his natural successor and said that such succession plan worked in monarchy and not in democracy.  
"Prasad should know that the RJD is not a monarchy in which one can nominate his successor," Yadav said at a public meeting in Katihar district.
In democracy, the people are ultimate decision-makers, the RJD MP from Madhepura said.
The RJD chief had said during the party's national executive meeting two days ago, "Let there be no doubt in anybody's mind about a successor in the RJD....it's my son only who will succeed me."
Yadav reminded his leader against ignoring party workers' voice over merger, but took caution not to annoy him saying Prasad continued to be his leader.
The RJD MP from Madhepura also alleged that he was insulted during the party's national executive meeting right under the eyes of the party supremo and he was not considered fit to sit on the front row as he was given a chair in the third row.
"I was heckled by party workers when I rose to speak at the crucial meeting at the behest of the RJD chief due to which I could not sleep for two nights," Yadav said.  
The RJD MP, who has been backing the former chief minister Jitan Ram Manjhi ever since he was ousted by the JD(U), said that Manjhi must be taken on board in the merged outfit with the Congress as he continues to remain a crucial factor in Bihar politics and could potentially have a say in the Assembly polls due later this year.