Ram Vilas Paswan slams Bihar govt for poor foodgrain delivery mechanism
Patna: Food Minister Ram Vilas Paswan today said many eligible beneficiaries in Bihar are not getting subsidised food grain under the National Food Security Act as fresh ration cards have not been issued to them.Paswan was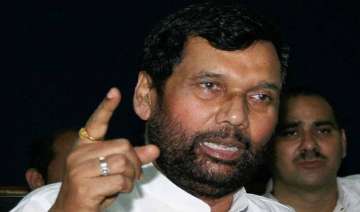 PTI
April 19, 2015 18:34 IST
Patna: Food Minister Ram Vilas Paswan today said many eligible beneficiaries in Bihar are not getting subsidised food grain under the National Food Security Act as fresh ration cards have not been issued to them.
Paswan was in the state capital today to chair an open discussion Khadya Suraksha Panchayat on implementation of National Food Security Act (NFSA) with all stakeholders, an official statement said today.
Paswan said: "His Ministry is pursuing Bihar government to implement NFSA effectively and a number of communications have been sent to the state government to complete all the remaining work for this purpose."
He added that all the beneficiaries are yet to be issued fresh ration cards to avail subsidised foodgrain under the Act. Still a number of the eligible beneficiaries are not getting their food quota due to poor delivery mechanism.
"Out of the 8.71 crore beneficiaries in Bihar (85 percent in rural areas and 74 per cent in urban area) under the Food Security Act, about 1.11 crore people have not been issued fresh ration cards for availing their food quota at subsidised rate of Rs two per kg wheat and Rs three per kg rice, even after rolling out of the Food Act in March 2014 in Bihar," he said.
The Minister added that National Informatics Centre has urged the state government to upload the details of remaining beneficiaries on PDS portal, which is still awaited.
Meanwhile, Bihar has reported 49.74 lakh additional beneficiaries. But, they can get subsidised foodgrains under the Act only after their details are uploaded on PDS portal by the state government, the statement said.
According to central government's data, About 8.71 crore people have been covered as beneficiaries in Bihar under the National Food Security Act (NFSA).
On the receipt of data of about 7.61 crore beneficiaries from the state, about 4.1 lakh tonne foodgrains are being provided by the Centre monthly which comes to about 49 lakh tonnes annually.
Paswan said the Centre is keen to make PDS system more transparent in Bihar by implementing end to end computerisation and a financial assistance of Rs 17.89 crore was provided to the state in 2013-2014.
Utilisation certificate from the state is still awaited for the release of more money for this purpose.
Bihar has also been requested to take up automation of foodgrain godowns, movements of grains and SMS alert system for informing beneficiaries about their allocation, and report in this regard is yet to be received from the state government.
Referring to procurement of foodgrains in Bihar, Paswan said the state is a Decentralized Procurement Scheme (DCP) State from KMS 2013-14 onwards and it is supposed to procure wheat and paddy for the Central Pool through state agencies, the statement said.
But, he regretted that procurement process in the state is very slow and sufficient infrastructure has not been created for this purpose.
A notification regarding procurement of wheat during current Rabi season is yet to be issued by Bihar. The Centre has already granted extension for paddy procurement thrice on the request of the state government for KMS 2014-15, he added.
"Regarding state government's claim for food subsidy, Paswan said that he has directed his Ministry to release admissible amount promptly to the state," the statement said.
In 2013-14, against the claim of Rs 14.61 crore, an amount of Rs 14.40 crore was found admissible and was released to the state, it added.
Similarly for 2014-15 (from April 2014 to December 2014), against the claim of Rs 1,452.08 crore, an amount of Rs1,430.99 crore has been found admissible and has already been released to the state government under DCP Scheme. Besides, the state government has also claimed Rs
1,264.10 crore in advance against ongoing procurement under DCP mode for fourth quarter of 2015. Out of this also, Rs 302.41 crore has been found admissible and already released in last month by the Centre, the statement added.
Paswan asserted that Food Corporation of India (FCI) has sufficient stockpile of foodgrains to meet Bihar's requirement, it said.