PDP attacks Omar over Kishtwar violence
Srinagar, Aug 11: Terming the communal violence in Kishtwar town "unfortunate", PDP president Mehbooba Mufti accused the Jammu and Kashmir government of being a "silent spectator" to the unrest.Kishtwar has been under curfew since communal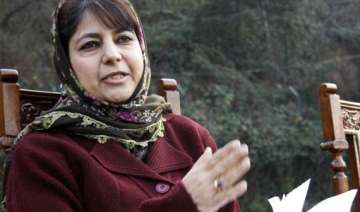 IANS
August 11, 2013 15:06 IST
Srinagar, Aug 11
: Terming the communal violence in Kishtwar town "unfortunate", PDP president Mehbooba Mufti accused the Jammu and Kashmir government of being a "silent spectator" to the unrest.
Kishtwar has been under curfew since communal riots broke out Friday. Two people have died and around 60 have been injured in violence. Authorities have also brought Jammu city and Rajouri town under curfew.
"Unfortunately, the government has been a silent spectator. They have been watching the situation and they have been doing nothing," the Peoples Democratic Party (PDP) leader told reporters here.
Mehbooba Mufti said the authorities prevented her from visiting violence-hit Kishtwar district.
She accused the Omar Abdullah government of doing nothing to maintain peace and harmony in the state.
She said the government was "sleeping" though Hindus, Muslims and Sikhs have lived together in harmony even during worse situations in the state.