PM Modi calls on Bangladesh Prez, discusses connectivity
New Delhi: Importance of economic cooperation and improved connectivity for advancing prosperity of India and Bangladesh besides development of the region was discussed yesterday when Prime Minister Narendra Modi met visiting Bangladesh President Abdul Hamid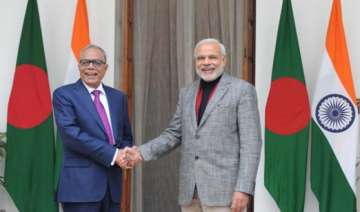 PTI
20 Dec 2014, 11:07:37 AM IST
New Delhi: Importance of economic cooperation and improved connectivity for advancing prosperity of India and Bangladesh besides development of the region was discussed yesterday when Prime Minister Narendra Modi met visiting Bangladesh President Abdul Hamid here.
The two leaders agreed that India and Bangladesh should take the lead in fostering closer cooperation in the region, a PMO statement said.
It said Modi lauded Hamid's contribution to Bangladesh's War of Liberation and said it was a privilege to welcome a "Mukti jodha" in the week when Bangladesh celebrates the success of its liberation campaign.
The Prime Minister thanked Hamid for the invitation to visit Bangladesh and said he eagerly looked forward to an early visit, the statement said.