PM Modi condoles demise of Siachen braveheart Lance Naik Hanumanthappa
New Delhi: Prime Minister Narendra Modi today expressed grief over the demise of Lance Naik Hanumanthappa Koppad, who was described as a miracle soldier after being dug out alive from snow and ice in which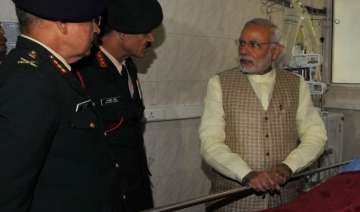 India TV News Desk
February 11, 2016 14:07 IST
New Delhi: Prime Minister Narendra Modi today expressed grief over the demise of Lance Naik Hanumanthappa Koppad, who was described as a miracle soldier after being dug out alive from snow and ice in which he was buried for six days in the inhospitable Siachen glacier.
"He leaves us sad & devastated. RIP Lance Naik Hanumanthappa. The soldier in you remains immortal. Proud that martyrs like you served India," the PM said in a tweet.
Lance Naik was flown down to the Army Hospital (Research and Referral), where he battled for life for two days. He died at 11.45 am today.
The Prime Minister along with Army Chief General Dalbir Singh Suhag had visited the RR Hospital after he was brought to Delhi on Tuesday.
Millions across the country had prayed that he recovers. But, that was not to be. The soldier's health worsened early Thursday. Doctors in the morning said that he was extremely critical, with worsening multi-organ dysfunction.

Koppad was found from under 35 feet of snow and hardened ice at an avalanche-hit army post in the Siachen glacier in Jammu and Kashmir -- six days after an ice wall crashed down on the post he and nine other soldiers were occupying. The bodies of the other nine have been found.
Lance Naik Koppad suffered from pneumonia which had worsened and the blood clotting disorder showed no sign of reversal despite blood component support.
Koppad has served in difficult and challenging areas for 10 out of 13 years of his total service. His postings include Jammu and Kashmir from 2003 to 2006, where he was actively involved in counter-insurgency operations.
He again volunteered to serve with the 54 Rashtriya Rifles (Madras) in Jammu and Kashmir from 2008 to 2010, and later in the northeast from 2010 to 2012 where he took part in operations against militants. He was serving in the high-altitude areas of Siachen glacier from August 2015.