PM Modi may break protocol to receive President Obama
New Delhi: Prime Minister Narendra Modi may break the protocol to receive American President Barack Obama, who is arriving here on a three-day state visit on January 25.All arrangements for this high-profile visit are complete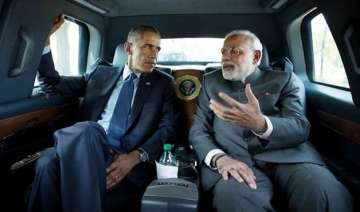 India TV News Desk
January 24, 2015 7:50 IST
New Delhi: Prime Minister Narendra Modi may break the protocol to receive American President Barack Obama, who is arriving here on a three-day state visit on January 25.
All arrangements for this high-profile visit are complete with national capital turning into a virtual fortress. As per the schedule, the US President will land in the world's most sophisticated aircraft, Air Force One, here on Sunday at 10 am.
The Prime Minister's Office (PMO), however, has appointed Union Power Minister Piyush Goyal as the 'Minister-in-Waiting' for Obama. As the 'Minister-in-Waiting', Goyal will accompany Obama during his stay in India.
Sources told to India TV that PM Modi may receive Obama at the airport.
From airport, he will be driven to the Rashtrapati Bhavan where he will be given Guard of Honour. Later he will visit the Rajghat to pay homage to Mahatma Gandhi.
On the same day, Modi and Obama will head for bilateral discussions at the Hyderabad House. Since Modi's visit to the US in September last year, several meetings between the officials of the two countries have taken place in areas like defence, science and technology, counter terrorism, health, climate change and global trade.
On the January 26, Obama will be at the majestic Rajpath for more than two-hours as a Chief Guest, witnessing the Republic Day parade.
Over 45,000 security personnel are guarding roads and 15,000 CCTV cameras keeping a hawk's eye on various areas of the city.
On January 27, the two powerful leaders will together address the 'Mann Ki Baat' programme on radio.
On the same day, Obama, who will be accompanied by his wife Michelle Obama on trip to India, will visit the Taj Mahal in Agra.