PM, Sonia condole Nida Fazli's death
New Delhi: Prime Minister Narendra Modi and Congress president Sonia Gandhi today condoled the death of poet and lyricist Nida Fazli.Fazli, who was in his late 70s, died in Mumbai today.The prime minister said Fazli's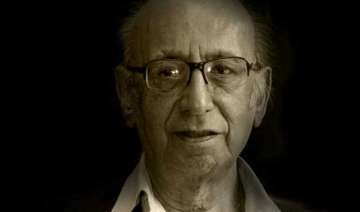 IANS
February 08, 2016 20:42 IST
New Delhi: Prime Minister Narendra Modi and Congress president Sonia Gandhi today condoled the death of poet and lyricist Nida Fazli.
Fazli, who was in his late 70s, died in Mumbai today.
The prime minister said Fazli's verses and his contribution to cinema and writing will endure in the times to come.
"Nida Fazli Sahab is no longer with us but his verses will live on & so will his contribution to writing & cinema," Modi tweeted.
"My thoughts are with the admirers of Nida Fazli Sahab. His demise is indeed very saddening," he added.
In her message, Sonia Gandhi expressed her deep condolences on Fazli's death.
"A Sahitya Akademi and a Padma Shri awardee, he will be remembered forever for his writings which enthralled an entire generation," Sonia Gandhi said.
Congress vice president Rahul Gandhi also conveyed his condolences.
Fazli breathed his last in Mumbai at 11:30 am. He was suffering from various illness arising out of aging issues.
Popularly known as Nida Fazli, the writer's original name was Muqtida Hasan Nida Fazli whose father was also an Urdu poet