Political parties' funding can be under RTI: Parrikar
Panaji: Goa Chief Minister Manohar Parrikar Saturday that information relating to funding for political parties should come under the Right to Information (RTI) Act.Participating on a debate on Headlines Today channel, Parrikar said he was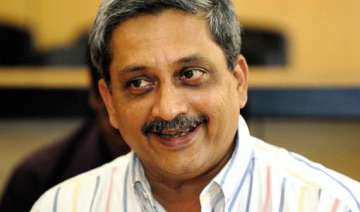 IANS
March 02, 2014 11:17 IST
Panaji:
Goa Chief Minister Manohar Parrikar Saturday that information relating to funding for political parties should come under the Right to Information (RTI) Act.
Participating on a debate on Headlines Today channel, Parrikar said he was in favour of bringing income source of political parties under scrutiny of RTI in a "restrictive way".
"I support political parties being brought under RTI in a restrictive way. I don't agree internal party matters must be in public domain, but funding should be. I am a big supporter of RTI," he said.
The Bharatiya Janata Party (BJP) leader's comments are significant since all parties have ruled out coming under the RTI ambit.
He, however, refused to be drawn into giving a reaction on Arvind Kejriwal's demand the BJP must come clean on who was funding the party's prime ministerial candidate Narendra Modi.