Posters outside BJP office, Shah residence seeking return of Sanjay Joshi
New Delhi: Posters today sprung up outside the BJP headquarters and residences of party president Amit Shah and L K Advani here, seeking the return of Sanjay Joshi, Narendra Modi's bete noire and former general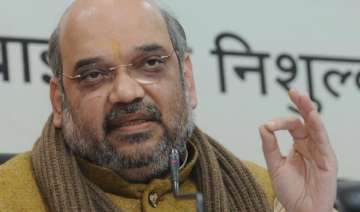 PTI
April 18, 2015 22:22 IST
New Delhi: Posters today sprung up outside the BJP headquarters and residences of party president Amit Shah and L K Advani here, seeking the return of Sanjay Joshi, Narendra Modi's bete noire and former general secretary, to the party-fold.
The poster depicting the photograph of Joshi, once a powerful BJP leader who was divested from all party posts in 2005 following a CD controversy, sought his "ghar wapsi".
The posters with pictures of Modi, Shah and Joshi took a dig at the Modi government's slogan of "Sabka Saath, Sabka Vikas", and asked why Joshi was not being taken along.  The poster states that BJP workers' 'Mann ki baat' be heard and "Sanjay Joshi's 'Ghar Wapsi' be initiated".  It also says, "With all, justice for all. In this lies BJP's development".
The posters that appeared outside the BJP headquarters on Ashoka Road, and besides the houses of BJP President AmitShah on Akbar Road and veteran party leader L K Advani on Prithviraj Road were later removed.
No BJP leader was willing to comment on the issue.
Similar posters with Joshi's pictures had come up in 2012 targeting Modi without naming him and Joshi had then issued an appeal that no such posters be put up and that he has no role in it.
A number of leaders of the party had celebrated Joshi's birthday on April 6, with some Union Ministers and BJP MPs also wishing the former RSS Pracharak.