AAP has now become a Khap Panchayat, says expelled leader Prashant Bhushan
New Delhi: Expelled Aam Aadmi Parry (AAP) leader Prashant Bhushan today said that Arvind Kejriwal-led party has now become a Khap Panchayat which is being run a by a dictator."Ab to yahi dikh rha hai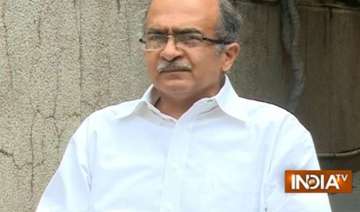 India TV News Desk
April 21, 2015 11:43 IST
New Delhi: Expelled Aam Aadmi Parry (AAP) leader Prashant Bhushan today said that Arvind Kejriwal-led party has now become a Khap Panchayat which is being run a by a dictator.
"Ab to yahi dikh rha hai ki AAP ab ek khap panchayat ban chuki hai, aur uss khap mein ek taanashah hai (It now seems that AAP has turned into a Kahp Panchayat which is being run a by a dictator)," he said.
Bhushan, who also described pro-Kejriwal camp a 'small coterie', claimed that the party had already decided to expel them even before the show-cause notice was issued.
"This entire drama started 2 months ago when attempts were made to remove us from NE (National Executive), thank god this drama is over," Bhushan said.
"The letter we've received from party doesn't even say what points they have found contradicting our response to show-cause notice," Bhushan added.
AAP's National Disciplinary Committee had issued a show-cause notice Prashant Bhushan, Yogendra Yadav, Anand Kumar and Ajit Jha on April 17 after they had organised 'Swaraj Samvad' in Gurgaon with a motto of restoring transparency in the party. Except Ajit Jha, all three replied to it yesterday describing the action of committee 'unconstitutional'.
Yesterday late night, party's National Disciplinary Committee announced its decision to expel the four leaders for indulging in anti-party activities.
Bhushan, also a noted Supreme Court lawyer, said that he is not feeling any personal loss. "There is certainly a sense of very deep regret but there is no question of any personal loss as these are not personal issues. These are issues involving the entire country," he said.
"These are issues involving entire country, public interest and sentiments and energy of lakhs of volunteers. They had a dream of creating a vehicle of alternative politics. The dream is now shattered," he further said.
Earlier in the morning, Yogendra Yadav said that he first felt anger after being expelled but now feels sad about it.
Meanwhile, Bhagwant Mann has replaced Dharamvir Gandhi as the leader in the house of AAP Parliamentary Party. According to some media reports, Dharamver Gandhi supported the rebel leaders in the National Council meeting and was against their removal from the party.