Prepare lists of corrupt officials, middlemen, Khattar govt tells Haryana bureaucrats
Chandigarh: Haryana chief minister Manohar Lal Khattar's government has issued directives to all heads of departments to prepare lists of "officers of doubtful integrity" and "undesirable contact men" to root out corruption from bureaucracy.In a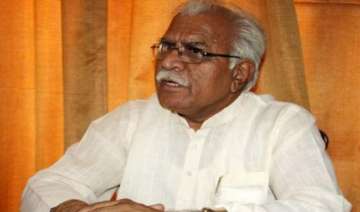 India TV News Desk
January 01, 2015 19:45 IST
Chandigarh: Haryana chief minister Manohar Lal Khattar's government has issued directives to all heads of departments to prepare lists of "officers of doubtful integrity" and "undesirable contact men" to root out corruption from bureaucracy.
In a circular to all heads of departments, boards and corporations, the state government has outlined a two-pronged strategy to combat corruption.
All heads of department have been asked to take immediate steps, using  preventive and participatory strategy. Every department, board or corporation would identify "five most vulnerable areas" to begin with, and rid them of corruption.
An official spokesman said today, the heads of departments have been asked to prepare a list of points and places in their respective organizations where corrupt practices are prevalent.
They would pay special attention towards removing  corruption at these points and places by adopting a two-pronged strategy---process, re-engineering and induction of information technology.
 
Special care would be taken to post officials with integrity at these points and places, the spokesman said.
Gazetted officers have been asked to keep a discreet and unobtrusive watch on their jurisdiction, followed by surprise checks, after thoroughly acquainting themselves with the modus operandi adopted by corrupt public servants.
The list will be updated in the month of January every year.
Heads of departments shall prepare four lists of Officers of Doubtful Integrity (ODI) every January.
Names of gazetted officers and subordinate ranks convicted in a court of law or awarded major penalty in criminal or disciplinary proceedings, respectively, on charges of lack of' integrity, or for an offence involving moral turpitude or against whom such proceedings are pending, would be included in the ODI list.
Besides, names of such officers as were prosecuted for such offences but were acquitted on technical grounds, and, in whose case, on the basis of evidence adduced during the trial, there remained a reasonable suspicion of lack of integrity might also be included.
The ODI list will be updated every year and a copy posted on the website. .
Along side the ODI list, the heads shall  also prepare or update a list of sensitive assignments and those involving public dealing and post them on their websites.
Officers figuring in the ODI list will not be posted on sensitive assignments or those involving public dealing.
When a name of an officer or official is included in the ODI list, he would ordinarily be transferred to another wing or district on administrative grounds.
All heads would prepare a list of undesirable contact men (UCMs) suspected of facilitating corrupt and or irregular practices in public offices functioning under their control.
The list will be circulated in all government offices and the heads advised not to let these UCMs operate in their offices.
An unobtrusive watch or check will  be carried out on  activities of such persons with a view to identifying their further contacts, modus operandi and specific instances of corruption or malpractice.
All heads will formulate a transfer policy with the approval of the office of the Chief Secretary.
All transfers and postings will now be governed by the transfer policy so framed. The general principles will be followed while preparing the transfer policy under which officers of impeccable integrity and those known for efficiency (honest and efficient) would be given the most sensitive or important postings.
Similarly, remaining officers having good integrity might also be given important assignment involving public dealing whereas officers of doubtful integrity will not be posted to any sensitive assignment or those having public dealing, the spokesman said.
All heads of departments shall ensure that the service record of every officer working under their control reflects his or her true general reputation.
Besides, they shall also make sure that the conduct rules are enforced in letter and spirit. The system of ACRs and Annual Performance Appraisal (APA) needs to be streamlined and timelines prescribed.
It will be strictly ensured that the timelines are adhered to by the public servant reported upon as well as the reporting, reviewing and accepting authority.
In case of non-adherence, it shall be the responsibility of the next higher authority to record his or her comments as per the timeline.
Further, the annual plan of work would be prepared by members of the AIS as per guidelines and mid-year appraisal conducted as prescribed.
Personal whims and fancies would not be allowed to affect the overall assessment of the officer reported upon.
The spokesman said,  promotions will not be treated as a matter of right and integrity certificate would not be issued routinely to facilitate promotion.
Similarly, the system of "sealed cover" procedure will be followed in letter and spirit. Apart from this, disciplinary proceedings will be expedited and their progress monitored closely.
Delinquent public servants will be awarded exemplary punishment for their misconduct in a timely manner to curb corruption and inefficiency.
All  heads will ensure implementation of Right to Information (RTI) Act in letter and spirit and maximum information should be made available on the website to minimize the need for filing RTI applications by the citizens.