Rahul's Dharamsala rally in Himachal postponed
Shimla: Congress vice president Rahul Gandhi's election rally in Himachal Pradesh's Dharamsala town March 8 has been postponed, a party leader said Tuesday.The postponement took place because of Gandhi's busy schedule, Congress spokesperson Naresh Chauhan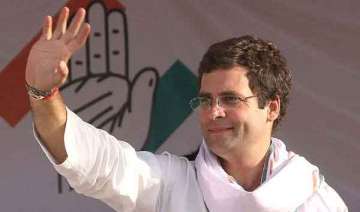 IANS
March 04, 2014 22:57 IST
Shimla:
Congress vice president Rahul Gandhi's election rally in Himachal Pradesh's Dharamsala town March 8 has been postponed, a party leader said Tuesday.
The postponement took place because of Gandhi's busy schedule, Congress spokesperson Naresh Chauhan told reporters here.
Prior to the rally, Gandhi was to meet Himachal Pradesh Congress leaders in Dharamsala, some 250 km from Shimla.
In the 2009 Lok Sabha election, the BJP won from Shimla, Kangra and Hamirpur while the Congress bagged the Mandi seat.