Rahul Gandhi attends Congress core committee meeting
New Delhi, July 13: Congress vice president Rahul Gandhi yesterday attended the Congress core group meeting for the first time triggering speculation about his more active involvement in decision making by the top-level body that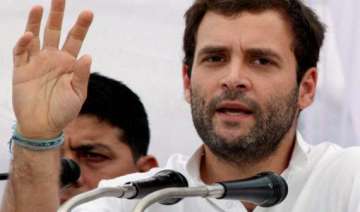 IANS
July 13, 2013 8:01 IST
New Delhi, July 13:
Congress vice president Rahul Gandhi yesterday attended the Congress core group meeting for the first time triggering speculation about his more active involvement in decision making by the top-level body that acts as a regular interface between the party and the government.
The meeting Friday discussed the issue of statehood of Telangana.
Party sources said it was the first time Rahul Gandhi had attended core committee meeting held at the residence of Prime Minister Manmohan Singh and could be seen as an indication of his showing more visible interest in the decision making of the Congress-led United Progressive Alliance government.
Rahul Gandhi heads a party panel for 2014 Lok Sabha elections.
The sources said Rahul Gandhi has been steering the party's preparations for the upcoming assembly and Lok Sabha polls by holding regular meetings.
The Congress core group includes party president Sonia Gandhi, the prime minister, Finance Minister P. Chidamabaram, Defence Minister A.K. Antony, Home Minister Sushilkumar Shinde and Congress president's political secretary Ahmed Patel.
Party sources said it is not yet certain if Rahul Gandhi will attend meetings of core group in the future.