Rahul Gandhi lashes out at Modi Governmnet, calls it 'suit-boot ki sarkar'
New Delhi: Congress Vice President Rahul Gandhi today lashed out at the Modi government and tried to corner the ruling party in the controversial and much talked about Land Bill in Lok Sabha.While speaking in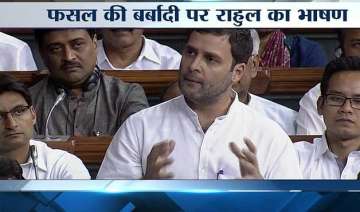 India TV News Desk
April 21, 2015 7:17 IST
New Delhi: Congress Vice President Rahul Gandhi today lashed out at the Modi government and tried to corner the ruling party in the controversial and much talked about Land Bill in Lok Sabha.
While speaking in Lok Sabha, Rahul Gandhi said that it was the farmers who brought the 'Green Revolution in the country and said the government who promised and talked about 'acche din' has failed comprehensively.
"I have a suggestion. Why doesn't the PM go and see for himself how much area has been affect" he said, while adding that "MSP is where it was, agriculture credit has not been improved, agricultural growth is 1 per cent."
Rahul, who addressed a mega farmer's rally on Sunday, labelled the government as anti poor and pro corporate.
Rahul Gandhi presented  the data saying that in the  previous government  agriculture grew,  with an average increase in credit with  20 per cent each year while the present government it declined to a mere 5 per cent.
The Congress Vice President also asked the government stand "You talk about strengthening the country, but what is the result of all this?" He accused that the present government was ignoring the problems faced by the country's farmers.
 "In our time, agriculture grew. Average increase in credit was 20 per cent each year," he said. The Congress vice-president alleged that the government wants to make a 'back door entry' to pass the land bill and issued a whip on Monday asking its MPs to be present in Lok Sabha.
Parliamentary Affairs Minister Venkaiah Naidu has defended the present government and saying that the PM reacted at the earliest when crops were damaged due to unseasonal rains.